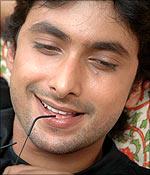 Prashanth's directorial debut Love Guru can be described as a 'super cool' Kannada film, which breathes freshness from the start till the very end.
Though there is nothing unusual about the story, the presentation is very appealing.
Love Guru's protagonists behave, dress, talk, quarrel, enjoy and feel like today's youngsters. Prashanth has been able to knit a tight and interesting script. It touches your heartstrings and makes you happy.

His intention to present a youthful film gets adequate support from Joshua Sridhar's brilliant music and the camerawork of Jnanamurthy and Sabha Kumar. 

Orthodox cine-goers may charge Prashanth with going overboard in his songs and not concentrating on the story. But he has presented the film the way it would appeal to the young audience.
Dialogues -- written by Naveen -- are crisp and suits the film's genre. The choice of locations and costumes of the artists have been handled with care.

The story revolves around two youngsters -- Pratham and Kushi -- who join a software firm on the same day and are entrusted with a project. Pratham finds Kushi assertive, and falls in love. Kushi falls in love with him too.
Pratham tries to reveal his feelings for Kushi many a times but somehow, circumstances play truant with him. Kushi also tries to get a positive nod from a confused Pratham. Finally, thinking that Pratham is interested in another girl Priya, Kushi agrees to marry her boss Abhi. Watch the film to know what happens next.
All the actors have performed well. This is certainly Tarun's best performance till date. Radhika Pandit is one of the best actresses to appear on the marquee in the recent times. She breathes life into Kushi. Veteran artists Jai Jagadish, Sreenivasa Murthy, Ramesh Bhat, Chitra Shenoy are also perfect in their roles.

But the comedy sequences do not gel with the mood of film.
Even if you find the climax offbeat, you will enjoy the film. Love Guru is certainly a different kind of film, worth watching.

Rediff Rating: