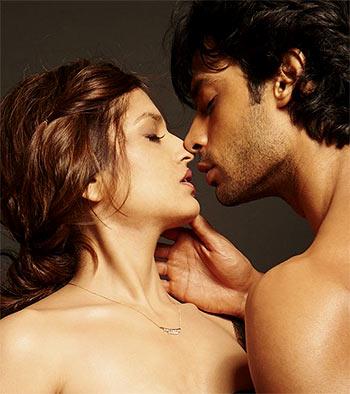 Watch Love Games only if you have nothing to do this weekend, says Namrata Thakker.

After watching the trailer of Love Games, the first thing that struck me was its resemblance to Hollywood teen drama Cruel Intentions. But Vikram Bhatt's latest directorial venture is nowhere close to the Reese Witherspoon starrer classic.
And I am not surprised at all.
Love Games is a erotic thriller and stays true to its genre.
In a nutshell, Love Games is about love, lust, drugs and revenge. Oh, and you'll witness a threesome act as well, which by the way, has been shot very superficially. Guess the makers just wanted to add a little more tadka to their film. As if the kissing scenes weren't enough!
Anyway, let's get to the story.
Ramona (Patralekha) is a rich widow addicted to everything that one doesn't associate 'good' girls with. Her toy boy is Sameer (Gaurav Arora) who is also rich and loves partying.
To make their lives more interesting, they start playing 'love games'. While Ramona has to seduce a guy, Sameer has to seduce the guy's wife. Whoever completes the task first, wins.
Things turn serious when these two target Alisha (Tara Alisha Berry) and her abusive husband Gaurav (Hiten Tejwani). Ramona succeeds in seducing the latter whereas Sameer ends up falling in love with Alisha.
So what happens next? Well, the bad boy decides to say bye bye to all the loves games and his ugly past but Ramona isn't willing to let go of him yet. She threatens Sameer that if he doesn't play by her rules, Alisha will face the consequences.
After a lot of drama, rave parties and some romance, Sameer tells everything to Alisha. Obviously, she is hurt and wants Sameer out of her life. But then Alisha realises that she no longer wants to be the damsel-in-distress. She decides to play her own game.
Though the story is well-paced and the performances are good, Love Games is too predictable.
The film is largely shot in Cape Town but when Alisha and Sameer are in Goa, it's pretty obvious they are not in Goa.
Overall, the film tries to offer something new and it does to an extent. But if you have watched Cruel Intentions, Love Games will not appeal to you.
The first half of the film is all about love games, sexual boredom and intimate scenes. The story takes off in the second half but it misses the mark because of its predictable story, cliched dialogues and all-too-easy screenplay.
Patralekha plays her character well, in a wicked, twisted way. But there are times when her dialogue delivery is a bit off. She does look sexy.
Gaurav also does well but there are times when he goes a little overboard.
Tara Alisha Berry is good but she doesn't have much screen time.
Hiten Tejwani has a few bold scenes with Patralekha but he looks very unconformable. His character hardly adds anything to the story. It would have been better if his character was explored more.
Watch Love Games only if you have nothing to do this weekend.
Rediff Rating: