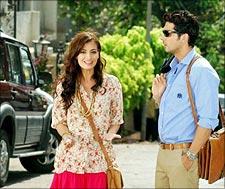 Preeti Arora writes Love Breakups Zindagi is for people who like cute, cheesy, breezy love stories. Post YOUR reviews here!
Yet another Friday and one more rom-com with a self-explanatory title in theatres.
Love Breakups Zindagi
(as expected) is all about love, life, romance, relationships, guilt and a few tears. An abundance of emotions which hopefully will culminate in a win-win situation for several confused characters two and a half hours later. Some songs and dance routines. Wise mothers. Fun-loving grandmothers. A predictable storyline... time to move on.
So there's Dia Mirza (Naina) -- the Mumbai girl. Quintessentially smart. An artist. Great friend, loving daughter. Would probably score a nine on ten in most areas of her life. But a lost cause when it comes to her romantic inclinations. And her roommate (Umang Jain) Ritu, a popular face from a chocolate advertisement keeps binging on ice-cream. The ultimate panacea for a semi-break-up. Convenient pegs for the scriptwriter to begin.
Zayed Khan (Jai) is the sharp, happening, fun-loving dude. Yet he's a wimp when it comes to his love-life. Engaged to a boring, health-conscious, control freak. Stereotypical characters. Meeting at a friend's wedding. As expected Cupid is lurking in the mustard fields around the corner. Let the revelry begin.
Love Breakups Zindagi
begins on a note of restlessness. Dialogues are stretched, situations are created and actors struggle with lengthy dialogues. For the first few reels Dia Mirza flutters her eyelashes, emits a sigh of pain and the tears are always ready to spill out. All because her boyfriend is committed to the syndrome of 'all work and no play'.
It takes the debut director Sahil Sangha almost half the film to establish the characters and their foibles, their trivial eccentricities. Maybe because he presumes the audience for his film is likely to be as dimwitted as his cardboard characters.
It isn't just the principle players who appear goofy and one-dimensional. The entire supporting
cast is littered with nitwits who haven't been given something they could get their teeth into. Shabana Azmi appears for a couple of minutes and says something as trite as "
meri independent beti ko meri yaad kaise aa gayi
" (How come my independent daughter thought of her mother today?). Calling your mother in times of crisis…not exactly original.
Cyrus Sahukar (Govind) is a forty-year old, twice divorced, still hunting for love bachelor. The director seems to have cast him in the role of Mr Funny and the entire responsibility for ensuring laughter then fell on his shoulders. Paired with Tisca Chopra, these two needed a lot more footage than the director was willing to provide.
Boman Irani as a retired army officer makes a brief appearance in one scene with Cyrus. Two people hose flair for comedy almost always succeeds in generating big laughs will at the most rustle up a smile. One more missed opportunity.
Shah Rukh Khan in a minute cameo plays himself but the blink-and-you miss it appearance isn't likely appease SRK fans.
In the true tradition of candy floss cinema, there is no bad guy. No shades of grey either. People break up without any feelings of vengeance towards each other. Good to know some people can be mature, but when Zayed breaks  up with his longtime girlfriend whom he was about to wed they appear more like office colleagues saying bye to each other before winding up a project. Director Sahil Sangha believes lack of negativity equals lack of emotion.
Surprisingly
Love Breakups Zindagi
after a dull beginning picks up pace after the interval. Zayed Khan who has recently been seen mainly in thrillers, returns in his
Main Hoon Na
avatar and has retained his boy-next-door charm. Romancing Diya Mirza these two share good chemistry and their interactions succeed in keeping the viewer engrossed.
The other saving grace to the film is the music. While Rab Rakha has become a hit all the other numbers are hummable.

If you like cute, cheesy, breezy love stories then Love Breakups Zindagi is for you.

Rediff Rating: