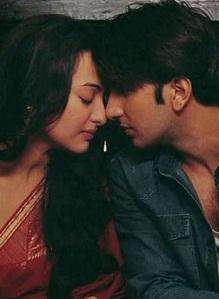 Lootera reminds us why we like to watch films, writes Aseem Chhabra.
How do two people fall in love? When do they first realize it is love and not just infatuation or physical attraction?

In life we often wonder if it is real love that we feel for another person or an emotion with another name. So we seek wisdom of wiser people -- writers, musicians and even filmmakers to guide us through that sense, since real life results in more confusion.
In Vikramaditya Motwane's sophomore project Lootera, the sense of love happens the first time his protagonists -- Pakhi (Sonakshi Sinha), the daughter of a landlord and Varun (Ranveer Singh), an archeologist with a mysterious agenda, are involved in a road accident.

Pakhi is learning to drive a car on a small rural road and as she looks away she hits a very James Dean-like (although he also reminded me of Gael Garcia Bernal's Che Guevara in The Motorcycle Diaries) Varun, on a motorcycle.
Motwane's protagonists fall in love in a very quiet way. The director textures into his narrative many parting glances, slight conversations and playful flirtations -- often aided by Amit Trivedi's seductive score.
For Pakhi this is clearly love. It may be her first, but she knows it. But Varun struggles with the ghosts of his past and is driven by the grey shades of his character.

When Pakhi confronts Varun, and begs him to acknowledge that he also loves her, he keeps quiet. Love is not easy for him. There is too much holding him back and he cannot say yes even if it is just to please Pakhi, who is clearly hurting.
That is such a heartbreakingly beautiful moment in Lootera -- a rare experience in Bollywood films, where love is usually tossed loudly at the audience with a Khulam Khulla Pyar Karenge attitude. In Lootera, Pakhi's pain at that moment is no less than that of Satyajit Ray's Charulata when she realizes that her love for Amal will never be fully realised.
Motwane's Lootera (a very fine follow-up to his outstanding Udaan) is lovely film, a blessing for fans of Bollywood who seek real, relatable characters, a meaningful story, a narrative that takes them on a romantic journey, filled with a lot of joy and balanced with some much needed sense of heartache.

It is a mature film, but it is also very entertaining -- if that is the sole criteria that drive many of the audiences to thetares to watch Hindi films.
Lootera is inspired by O Henry's slim, 2,500-word long, Greenwich Village-based short story, The Last Leaf. Motwane and his co-writer Bhavani Iyer weave a more detailed and complex narrative around the short story, finely etching out a romance and lace it with a crime that will test the film's overriding theme of love.

There is one peculiar and hard to believe coincidence in the second half of Lootera, but by then I was too much in love with the film to really worry about it.
Just two films old, Motwane shows the experience of a filmmaker who could have been making films for many years. Lootera is a period piece -- first half set in rural Bengal in the early 1950s and the second in a cold, grey and snowy Dalhousie.

Motwane's investment in the details -- the cars, the furniture and other artifacts in a Bengali landlord's house, the costumes and the look of his characters becomes a part of his narrative. His players -- especially Sinha and Singh look like people from that era, very comfortable with their appearances and their surroundings.
Singh gives a controlled performance, acting with his smile, eyes, using a low voice and remarkably subduing the tremendous energy the actor has portrayed in his first two films and also displays in his public appearances.
Sinha is the real surprise in the film, giving such a fine nuanced performance. As Pakhi she is a young, naïve dreamer whose heart is first stolen and later broken by a mysterious man. How does the 26-year-old who has appeared in films like Dabangg and Rowdy Rathore become the utterly charming Pakhi in Lootera? Definitely director Motwane has a lot do with that.
The songs with Amit Trivedi's compositions set to Amitabh Bhattacharya's lyrics are playful (Sawaar Loon) and tragic (the soul of the film Ankahee), and they stay with you long after the film is over.

Trivedi is one of the few musicians in Hindi cinema who really knows how to create a meaningful background score -- not in your face loud deafening sounds, but music that eases the audience through the film's romantic journey.
Lootera is a gift, wrapped beautifully in a box, with enough rewards that remind us why we like films in the first place.

Rediff Rating:



Also read: Review: Lootera is an absolute masterpiece