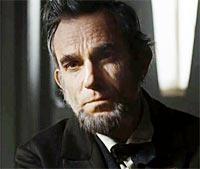 Steven Spielberg's Lincoln boasts of a stellar cast led by two-time Academy Award winner Daniel Day Lewis in the titular character, writes Vipin Vijayan.

Steven Spielberg never ceases to amaze. To pick up a decisive moment in American history and portray it on screen with compelling narration is something that only a certain pedigree of directors can do.
Adapted from Doris Kearns Goodwin's book Team of Rivals: The Political Genius of Abraham Lincoln, Spielberg's offering is not a biopic.
Lincoln is set around the 16th President's tumultuous final months in office during which he pursues a course of action designed to end the bloody civil war, unite the country and abolish slavery.
Spielberg joins with his long-trusted team behind the camera -- director of photography Janusz Kaminski, production designer Rick Carter, costume designer Joanna Johnston, ditor Michael Kahn and composer John Williams -- to make a war-torn world that Lincoln irrevocably changed in 1865 a contemporary experience.
Two-time Academy Award winner Daniel Day-Lewis, who plays the titular character, truly gets under the skin of his character and impresses as the 6 foot 4 inch-tall US president at odds with his family and representatives of the Democratic Party.
The Lincoln who emerges is a man of raw paradoxes, funny and solemn, a playful storyteller and fierce power broker, a shrewd commander and a vulnerable father.
To bring to life the major role that the First Lady Mary Todd Lincoln played in her husband's political and personal life, Spielberg turned to two-time Oscar winner Sally Field.
Figure this: Lincoln was 10 years older than his wife Mary Todd. But in real life, Sally is 10 years older than Day-Lewis.
Yet, Sally delivers with grace as the slightly loony First Lady.
Spielberg backs up Day-Lewis with a strong cast led by Tommy Lee Jones, who plays firebrand Radical Republican Thaddeus Stevens agitating for emancipation, black fighting units, and black suffrage.
Thaddeus Stevens' rhetorics in the House of Representatives during the debate on the 13th Amendment abolishing slavery, the aggressive lobbying for votes, Lincoln admonishing his son Robert Todd Lincoln (played by Joseph Gordon-Levitt) for thinking of enlisting himself in the Union army… Spielberg peppers the 149-minute narration with moments that are hitherto unknown to many.
No wonder, Lincoln is the front-runner for the coveted Oscar awards. Go watch this one for Spielberg's charm and a slice of American history.

Rediff Rating: