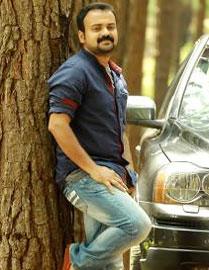 Law Point is a lethargic long drive with many low points, says Paresh C Palicha.
In director Lijin Jose's new film Law Point Kunchacko Boban plays a hotshot lawyer, Sathya.
He whizzes around in an imported MUV, reaches the courthouse dramatically when the defence is called to make its argument and saves his client from going to jail for raping his minor domestic help. He charges Rs 1 crore for this case.
He is sitting in a bar in the evening celebrating his victory when he is approached by an old man (Nedumudi Venu) with an unusual request: his teenaged son Abhay (Krishna Shankar) has been dragged to court by a girl for cheating her and pushing her to the brink of suicide.
She was saved, but she and her father are adamant to go ahead with the legal proceedings. Sathya feels that an out of court settlement would be the best option and suggests a huge amount in compensation.
He convinces the girl's father (Joy Mathew) to accept the offer. The father says that convincing his daughter Maya (Namitha Pramod) would not be easy.
Sathya offers to talk to her. He takes her for a drive during which they engage in malicious banter or a teasing game to unearth each other's hidden motives.
This painful banter continues for a major portion of the film as the drive becomes a very long one - from somewhere in Kochi to the hill station of Vagamon.
One feels that this film should have been titled Long Drive instead of Law Point.
We keep expecting Sathya to get romantically involved with Maya at some point.
The brains behind this movie try to make the circumstances interesting by introducing a couple of new characters in the form of KPAC Lalitha and P Balachandran, an ideal couple who have been together for a long time. But their entrance makes us feel that we have suddenly started watching a new movie.
Kunchacko Boban tries to be convincing as a ruthless lawyer without a conscience and succeeds in the effort to some extent.
Namitha Pramod is very convincing as a youngster who does not take anything lying down.
Law Point is a lethargic long drive with many low points.
Rediff Rating: