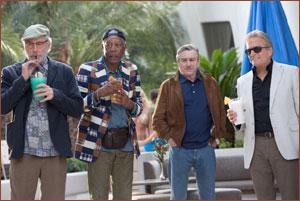 Last Vegas is a cross between The Hangover and Wild Hogs, writes Paloma Sharma.

Last Vegas has it all -- four legendary stars, a $28 million budget and Jon Turteltaub of National Treasure fame behind the camera. And that makes me wonder why it went so terribly wrong.

Four childhood friends who've been together for 60 years are now in the winter of their lives.

Paddy (Robert DeNiro) is a grieving widower, who lives holed up in his apartment, which is flooded with pictures of his late wife.v Archie (Morgan Freeman) is a man smothered by his overly caring son and daughter-in-law, who are paranoid about his health ever since he had a stroke.

The fire has gone out between Sam (Kevin Klein) and his wife while Billy (Michael Douglas), well over 60 and highly successful, has proposed marriage to his 32-year-old girlfriend.

The foursome plan to come together and throw Billy a bachelor party.

Will they succeed or will unresolved issues between Paddy and Billy destroy a 58-year long friendship, forever?
If you strip away the glossy finishing touches and the bling, at the end of the day, Last Vegas is the product of a cross between The Hangover and Wild Hogs. While the film has some great performances, including Mary Steenburgen as a sassy Vegas lounge singer (who adds much needed drama to the rather drab tale), it ends up taking its actors for granted.
Too much of the film rests on the bankable stars.
The makers seem to have thought of this as a purely commercial project -- one with the right about of glam, a couple of chuckles here and there, shots of women in bikinis and scantily clad women gyrating all over the place with a heavily recycled script.
Last Vegas begins well but you end up losing interest within the first 20 minutes.
The banter among the four protagonists provides for some laughs -- most of which are half-hearted. The trouble with Last Vegas is that even before the interval arrives, you know how it is going to end.
Last Vegas is a one-time watch on a Sunday afternoon when you're half asleep and all else on television includes a screaming news anchor and reruns of saas-bahu shows.
It lacks charm or mystery.
It might be perfectly executed with an amazing star cast but it lacks a soul -- and a story. It seems cold and clinical at times. The saddest part is that this could have been such a beautiful film. It's not everyday that we see films for an audience above 30. The idea to include a wider age group into the cinematic experience might have been a noble one but the film essentially forgets to help the viewer connect with any of the characters -- despite all of them having completely legitimate sob stories.
It's sweet to watch older people embrace all the potential that life holds and one appreciates that the film tries to hold up the need for compassion and respect towards elder members of our society, but it ends up giving a rather warped view of the younger ones.
Or maybe all the people below 30 are just behaving like monkeys on cocaine because they're in Vegas. It's hard to tell.
Last Vegas could have explored its central theme better and focused more on the victory of the immortal human spirit over the mortal human body. But the film chose to go another way.
After watching Last Vegas, I wish what had happened in Vegas stayed there.
Rediff Rating: