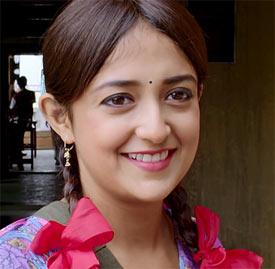 Lakshmi is the kind of story that we don't want to hear, which is exactly why we must hear it, writes Paloma Sharma.

Chinna Reddy is a violent man.

As a pimp, it is his job to keep his 'investments' in line.
As younger brother to local powerbroker and trafficker Ram Reddy, he must provide the choicest of these investments to his older sibling.
He buys women, sells women and finds time to exploit them along the way.

His weapon of choice is a long, broad stick with spiky nails at one end and he is not afraid to wield it. None dare question him and, with the police and the courts in his brother's pocket, he fears no one.

Chinna Reddy's life is going just fine -- until Lakshmi comes along.

Lakshmi (Monali Thakur), who is just 14, has been bought, sold and introduced to the dark underbelly of our civilisation. Though she is repeatedly raped and abused, Lakshmi never stops fighting back. Even as she is forced to become one of Chinna's prostitutes, Lakshmi remains unbreakable and hell-bent on fulfilling the promise she made to Chinna -- that she would run away and be free once again.

With society and its guardians –- moral and otherwise –- against her, will Lakshmi be able to escape a hell whose key hangs on Chinna's belt?

If I am to be honest, I have to tell you that no one would go willingly into a cinema hall if it were playing Nagesh Kuknoor's Lakshmi –- which is precisely why the government of India should make it a mandatory watch (and, if miracles do exist, watch it themselves).

Lakshmi is a mirror.

It reminds us of the other India that crawls in the dark shadows of our towering skyscrapers. It is a world where survival comes before intangible ideas like honour and respectability.
Lakshmi is the kind of story that we don't want to hear, which is exactly why we must hear it.

Doe-eyed, petite Monali Thakur seems the perfect choice to play a 14-year-old small town girl but during scenes that show the aftermath of abuse, it seems like Thakur just refuses to emote.

Satish Kaushik is a complete misfit as Ram Reddy aka Reddy Garu. Kaushik can do everything -– he can be cruel, he can be kind, he can be horrifyingly violent as well. But the one thing he cannot do is shed that typical North Indian accent. If you're lucky, you won't pick it up. But if you do, it does end up taking away from Reddy's character, who is supposed to belong to Andhra Pradesh.

Flora Saini surprises as Lakshmi's roommate Swarna. Swarna teaches Lakshmi the tricks of the trade, ensuring Lakshmi's survival but the teacher clearly outshines the student. Saini is self-assured and does not shy of giving the film her all. She makes Flora someone you've met or are friends with.

As opposed to the overly-sexualized and fantasy-driven portrayals of women enslaved in the flesh trade, Saina –- with the help of the whole Lakshmi team –- makes you see how the women who paint their faces every night and beckon you from the windows of the brothel are just as human as you are.

However, the show truly belongs to Nagesh Kuknoor and Shefali Shetty.

It is extremely difficult to believe that the heavily bearded, unwashed man who played Chinna could be the same as the clean-shaven director with hard, questioning eyes who appears at the end of the credits.
Chinna is an animal. Jyoti (Shefali Shetty) is his favourite prey.

She runs the Dharam Vilas Girls' Hostel, which is really a brothel owned by the Reddy brothers. She has a daughter who does not know what her mother does for a living. Jyoti protects Lakshmi as much she can, much to Chinna's annoyance. They push each other time and time again, waiting for the other to break... whoever breaks first will determine Lakshmi's fate.

Ram Kapoor makes an appearance as Avinash, an honest lawyer recovering from a nervous breakdown. Avinash must battle his own fears if he wishes to help Lakshmi, but Lakshmi is awkward around him. To her he is just another man, one who will hurt her sooner or later. But Kapoor brings much-needed hope to the film.

Lakshmi starts off slowly and builds up into a disturbingly graphic tale that is not afraid to be honest to the point of being brutal. Kuknoor hides nothing. He makes excuses for no one. All he asks is one simple question (you must have seen it written in bold, yellow letters on a red background): Are we being human?

It is difficult to watch Lakshmi. It gives you a headache inside the theatre. It gives you nightmares when you go home.

Take a box of tissues along for this one. It isn't so much the visuals as it is the soundtrack will reduce you to tears.

As a film, Lakshmi may not be perfect. For example, the scene where Lakshmi is swinging carelessly, her eyes revealing her naivety as she tilts her head in wonderment has been repeated over and over as a flashback to the point of annoyance. There are times when dialogues revealing information about characters pop up out of the blue and conversations become awkward.
Yet, films like Lakshmi are the need of the hour.

The worst part of Lakshmi is that it isn't just a story. When you come out of it, you will forever be plagued by the knowledge that evil does exist in this world and we, as a society, are only enabling it.

Rediff Rating: