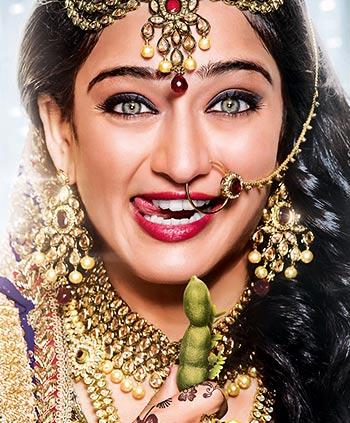 Laali Ki Shaadi Mein Laaddoo Deewana is insipid, terribly made, and yet a Warm Enterprise, feels Sreehari Nair.
Few people in the audience knew the exact movie title. By the end, fewer even cared.
I saw a lady walk out in the middle after hush-hushing to her friends that she had to feed her cat.
"Which cat?"
"Duh... Lucy???"
"Oh!"
There was a standing ovation of genuine relief by the time the film drew to a close.
Laali Ki Shaadi Mein Laaddoo Deewana (which, in its long-windedness, sounds like the title of a Charlie Kaufman-scripted Urdu picture), is less like a movie and more like one of those high school plays where real kids play Christmas Trees.
There were scenes where the audience laughed uncontrollably, as (up there on the screen) characters confessed genuine feelings, talked about their painful histories and flamed with anger.
Unintentional hilarity? Not quite.
This was sincerity hitting all the right laughter ducts.
The film is essentially one giant conceit (two lovers separate and they're adopted by parents of each other), played out for two plus hours.
It is the kind of plot line that sometimes gets fine actors excited.
And here, these actors arrive, one after the other, big grins and whoops abound, all slow-mo.
A revelation occurs, and the narrative shifts between a random present and an arbitrary past.
This is a movie world where things happen, only so that a flashback can be unfurled.
And so after Suhasini Mulay's character reinforces her royal status by referring to the Main Gate as 'Mukhya Dwaar,' we are taken through poor Laaddoo's story -- about how he came to know Laali, wooed her, impregnated her, left her, re-pursued her, and now stood there trying to deny her wedding-day happiness.
If at all his misdemeanours weren't reasons enough to shun him straight up, Vivaan Shah plays Laaddoo like a 12 year old on crystal meth.
In taking up this insipidly conceived role and playing it so obliquely, was Shah trying to do what artists of intelligence do in roles that can only be approached playfully?
Or, is this reviewer here, trying to mine out something that doesn't exist?
I leave it to the audience and the readers to make that judgment.
Writer-director Manish Harishankar, though, has no such apprehensions about who his leading man is.
The droopy-eyed Laaddoo gets all the ladies; damn, at one point, even his would-be mother-in-law stops to give him the eyes.
It's Laali, though, that Laaddoo wants to passionately torment.
Akshara Hassan plays Laali and in what is clearly not a wise career move: She dubs for herself.
The performers seem to be having a gala time hitting all the wrong notes and hitting it like teamwork -- it's as if they were pulling a fast one on the director who seemed over passionate and hence needed to be messed around with.
Darshan Jariwala sweats out his surprises.
Navni Parihar generously pauses between dialogues, waiting for her cue cards to change.
Kavitta Verma interrupts monologues to narrate her own sordid life story.
This happens more than once, and at one point Akshara Hassan's Laali cuts her off with a "Please don't irritate me."
Someone in the audience yelled out in response: "And us too!"
But then, between Gurmeet Choudhary who tries to win over a girl by talking to her about his pet horse and Kishori Shahane, who magically goes from being a suffering wife to an enthusiastic cheerleader, there's Saurabh Shukla.
Shukla is perhaps in the form of his life, and even in this unmitigated jumble, dredges up a few drunken scenes that come across as affecting and scary.
A Mohanlal-like ease-within-burliness seems to have taken over Shukla of late, and when the actor comes home to his wife and asks her to serve him Raaaicce, he almost re-calibrates the scene.
The movie also manages do what only Rohit Shetty's Dilwale had done before: It gives us a tired Sanjay Mishra performance.
Mishra clearly doesn't wish to belong to this heap, and stays out of scenes that require teaming up.
A final bit has all the actors dancing together, and Sanjay Mishra there stands playing the trombone.
So the movie ends.
Someone messages me, "Should I watch it this weekend?" And therein lies the predicament; let's call it the movie critic's predicament.
For I don't think a movie critic's verdict is supposed to tell you whether or not to watch a movie; it is meant to be a mere conversation starter for the movie.
Of course, this doesn't gel well with the recently developed image of a movie critic all suited-up, hands crossed over the chest, and imitating a stock analyst.
For my part, I think everyone should watch every movie, and then we should all go to a coffee shop and talk about every single one of those movies.
In line with this spirit, there's something about Laali Ki Shaadi Mein Laaddoo Deewana , which I thought was worth mentioning in this review.
That for its sheer mediocrity and ludicrousness, the movie is still a Warm Enterprise.
As a natural consumer of everything around me, I believe things divide neatly between 'Warm Enterprises' and 'Cold Enterprises.'
An advertisement that tells you, 'Buy this Credit Card and watch your parents become kids again,' is a Cold Enterprise.
The micro-fiction of the Terribly Tiny Tales-sort, with the message tending to, 'Terrorism is so pointless,' is a Cold Enterprise.
An album by Tom Waits or movies like Thithi, Maheshinte Prathikaram, Badlapur and Angamaly Diaries are Warm Enterprises -- they are created by artists nottrying to hook you using an easy message, but by artists trying to give you access to a wider canvas; trying to affect you in sensory, sensual ways.
Though by an entirely different token, Laali Ki Shaadi Mein is a Warm Enterprise too.
It is 'Warm' in the same way that those badly written poems on park benches and local trains are 'Warm.'
This is a movie so naïve both in its worldview and how it goes about disseminating that worldview, that you can enjoy it on a completely harmless level.
You can literally feel the 'Cuts' in certain scenes.
Manish Harishankar's staging of drone shots are of the kind born out of Google searching 'How to stage a drone shot?'
Even his strategy for double crossing the audience is so underdeveloped, it becomes rapturous.
Harishankar comes up with poorly composed punchlines and then places them in scenes, so that even those flimsy lines don't get their due.
It's not the ancient theory of 'So bad, it's good' that works as a descriptor for this movie.
This one is so sincere, it's fun.
If you want to be disappointed, there are better movies to be disappointed by.
This is a half-star picture with one extra star for how ignorant it is about its own quality.
Rediff Rating: