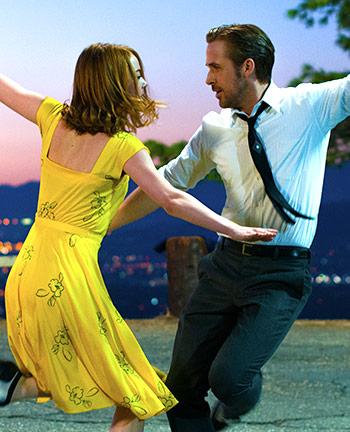 Raja Sen confesses to not being able to stop raving about the spectacular La La Land.
Twenty Decembers ago, Woody Allen's underrated Everyone Says I Love You had the director dance with the striking and cherubic Goldie Hawn on the banks of the Seine, by moonlight.
As Allen clumsily kept pace, Hawn began suddenly to float -- as if it were the most natural thing in the world, and her black dress just happened to be cut from magic carpet.
In a film about divorce and infidelity, and many layers of lies, this achingly poetic moment -- where the ex-wife takes flight during a nostalgic dance and turns into a gliding goddess -- is one of my absolute favourites from Allen's oeuvre, for its unashamed romanticism and for the way it makes my heart soar, sing, yearn to dance.
Every bit of La La Land flies as high as that singular sequence.
It is a film that tapdances on air.
Damien Chazelle starts his exuberantly splashy musical with gridlock. An unbroken opening shot, choreographed with Broadway precision, shows us young men and women -- young aspirants -- cavort from traffic-jammed car roof to car roof as they sing of dreams and sun, wearing primary colours and priming us for the technicolor pop of the film.
It is a gorgeous sequence, certainly, but what struck me most was the thoughtfulness of the visual decision: The reason this is a showily single-take opening shot is because traffic is impossible to fly or cut away from. But that doesn't mean you can't jump onto the roof of a car and warble.
Then, as the colourful stars-to-be leap back into their unmoving vehicles -- the song providing no escape, merely respite -- the sun-drenched world is identified as winter. This, we are told, is not merely a hot day in Los Angeles but, in fact, La La Land, and that is a place more unreal than you expect.
Mia is an actress. Which is to say she is a barista at a cinematically-located cafe who goes to auditions and somehow -- remarkably -- never catches an important eye. In a city full of them, she is another girl behind the wheel of a Prius.
Sebastian is a struggling pianist with the lofty dreams of resuscitating jazz itself by opening up his own club. He drives a defiantly vintage convertible, goes the wrong way, and honks like a foghorn operator.
They are blue chalk and blue cheese, exotic and far from ordinary, archetypes but the kind you wouldn't expect to go as well together.
With all the charm of an old-world musical -- Chazelle swigs from the same hipflask passed around in the day by Jacques Demy, Stanley Donen and Vincente Minnelli -- La La Land is a film that could easily be described as a throwback or a homage, yet despite hat-tips and references, it is very truly -- and very irresistibly -- its own thing.
This is a musical about loving musicals, just like it is a film about a boy who loves jazz and a girl he teaches to love jazz, rather than a film about jazz itself. In this, it is so deliriously stunning that most will fall for it regardless of tolerance for jazz or musicals. It's a screen romance for the goddamned ages.
Part of the film's virtuosity lies in the apparent lack of it. Emma Stone and Ryan Gosling are the film's magnetic leads, and while they are both superb performers with rare and vintage chemistry, neither is a song-and-dance performer on the scale of the old musicals La La Land loves.
Gosling, in particular, is visibly laboured while dancing the first time, yet this amateurishness serves the character brilliantly, as we see him concentrate hard on his steps as he tries to impress this girl who casually, cruelly -- and yet alluringly -- just called him George Michael.
The two have just strolled away from a party together and found themselves a bench with a knockout view, and the resulting song is enchanting. The standout bit is when Stone casually pulls out black-and-white tap shoes from her bag to match the ones Gosling wears, while he playfully kicks some dirt her way. These are characters who know they're in a musical, and the giddiness this gives them is infectious.
That said, the film knows when to kill the music. The record playing in the background runs scratchily dry just when the conversation takes a turn for the brutal. There is an astonishingly irony-free scene where Sebastian talks over jazz music while talking about people who talk over jazz music, and this is almost immediately countered by a scene where background jazz takes over and talks over people. (Not just any people, mind you, but people sitting around a dinner table proclaiming a home theatre better than a real one.)
Finally, in the film's spellbinding climax, music takes over everything. Including our dreams.
Chazelle, who made the compelling and mercilessly paced Whiplash a couple of years ago, is the most worthy kind of nostalgist: an actual artist. La La Land is a swooning rhapsody, a picture made with both affection and originality. The writing is note-perfect. Mia, who invokes Kenny G to needle her boy, finds herself an experimental, improvisatory film -- like jazz, really. Sebastian, a possible stand-in for the director, uses words like "shanghaied" to romanticise his own frequently hairy struggle, and wonders why we consider romantic a dirty word.
Later, as a successful jazz band beckons, Sebastian is realistically asked how he intends to 'save' jazz by clinging to the past. He doesn't know, though he might stubbornly say he does.
The way to save the musical, on the other hand, has to be a grand flourish. This, the best in decades, is just the ticket. Swedish cinematographer Linus Sandgren (of American Hustle and Promised Land) shoots the vivid and timeless sequences with smitten eagerness, as if constantly trying to take in something magical, swooping up to grab a palm tree one moment, sideways to sneak in a wry smile the next.
The production design is coded in solid and primary colour, with the protagonists even wearing white shirts when happy and optimistic (though Seb's stay beneath his slim-cut suits) and then, when things take a turn, one of them is seen in a lot more black. We even go from classic white piano keys to hard black ones on a keyboard that looks digitally sinister. Bright colour constantly and mesmerisingly surrounds these vital monochrome decisions, of course -- including the fiery scarlet of a keytar wielded by a man who, instantly regretting it, refers to himself as a 'serious musician.'
The music itself, by Chazelle's friend and collaborator Justin Hurwitz, is swooning and melancholy and pretty, utterly perfect for the film and liable to be stuck in our freshly-shanghaied heads a fair while. Stone's clear, insistent vocals have a bit of a Hepburn quality, while those by Gosling are approachable in their simple mumble, vocals we can attempt to imitate without feeling foolhardy. When they sing, the rest of the film fades away and both actors burn even brighter under that singular gaze.
Excellent actors, they are in crackerjack form even when merely toying with the acoustic oddness of the word 'Boise', saying the name of the place in Idaho over and over just to play with the sound, grinning moonily at each other while as we gaze up at them.
He, who can do anything, is amazing as he makes ferret-like faces for a photographer.
She, holding oceans of vulnerability in her mammoth manga eyes, imbues each word and glance with meaning.
These are actors we are fortunate to see peak before our eyes.
In one standout scene, the two are at Los Angeles' Griffith Park Observatory, its attractions apparent from a shot that swirls up its roof in kaleidoscopic fashion. She impishly plays with a bright red switch, he hurriedly polishes its handle with the handkerchief he obviously carries, and then the kerchief floats upwards. This is an echo of so many musicals -- specifically Fred Astaire and Vera-Ellen in The Belle Of New York -- but the real prestidigitation lies in the quick moment when Stone, before taking off against a backdrop of simulated space and thunderstruck by the unreality it all, looks directly and knowingly at the camera, as if to share her whoa with us.
It may be this confident awareness that makes La La Land a cinematic triumph.
It cycles through seasons knowing they look all the same, and -- when it signals Winter a second time -- the reason the sky appears too good to be true is because it is.
As is the finale, which pulls the rug out from under our feet in a fantastical way few films ever dare, distilling the film's essence while, again, letting the music do all the talking.
This is a sublime cinematic experience, a rare joy that -- to quote a song I always hear in Sinatra's voice -- left me Bewitched, Bothered And Bewildered.
It is a film so special I had to watch it twice before writing about it, and you know what, La La Land? Everyone says I love you.
Rediff Rating: