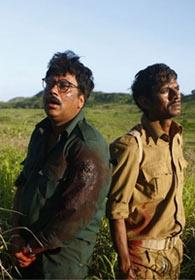 'The idea behind Kya Dilli Kya Lahore is to once again point out the futility of war as well as highlight why human comes before being. And Vijay Raaz accomplishes that to a reasonable extent in his first filmmaking effort,' says Sukanya Verma.

"Lakeerein hain toh rehne do. Kisine rooth kar gusse mein shayad khench di thi," laments a voice that is distinctly Gulzar revealing the essence of Kya Dilli Kya Lahore, a nostalgic and sentimental take on a painful period of India and Pakistan's history.
Quite a few films, be it art-house or mainstream, have touched upon the subject and documented the varied nature of its impact.

But here, the focus is on a psyche left scarred and disoriented by the severity of post-Partition events.
Set in 1948, the wounds are still fresh; the nature of offence is spontaneous, which lends the interactions between a cook in the Indian army (Manu Rishi, also credited for dialogues) and the underling of the Pakistani army chief (Vijay Raaz) a bittersweet charm.
Marking the directorial debut of the incontestably talented Raaz, Kya Dilli Kya Lahore may not possess enough irony to be a satire but the disintegration of its two principal protagonists as they graduate from 'different sides' to 'of the same coin' is far too genuine to not feel moved.
An altercation at the border leads to the meeting of these two unlikely survivors-in-uniform under most uncommon circumstances.

In the beginning, they spar over a mythical file, firing bullets and hurling abuses at one another, arguing about the politics of Jinnah and Nehru and nations they owe allegiance to.
What starts out as a juggle between intimidation and bargain gradually takes an emotional turn when they discover each other's origins -- the Indian belongs to Lahore, the Pakistani hails from Delhi.

The war of words is still on but venom makes way for regret -- "Humare saath thoda zyada hua tha, oye," insists Raaz. "Sabko aisa hi lagta hai," concludes Rishi.
The crack in Raaz's voice as he trails back to the pleasant memories of Chandni Chowk and the aromatic korma left my eyes brimming with tears.

I may never understand the magnitude of partition but the yearning for 'what used to be home' in his haunting account tugs a heartstring or two.
Gulzar mentored this project and his poetic imprints are what lend heart to Kya Dilli Kya Lahore whose imagery fleetingly resembles Danis Tanovi?'s No Man's Land.

Only Raaz's film evades layers and cynicism to unfold like a loquacious play.
Given how heavily the narrative relies on their constant communication, Kya Dilli Kya Lahore feels a tad sluggish and monotonous at times.

Moreover, for a plot, set so soon after partition, the bitterness and nostalgia feels too refined in place of impulsive or uncertain.

Nevertheless, credit to Rishi for infusing the conversation and his performance with enough spunk and flavour to keep the momentum going.
The idea behind Kya Dilli Kya Lahore is to once again point out the futility of war as well as highlight why human comes before being. And Vijay Raaz accomplishes that to a reasonable extent in his first filmmaking effort.

Rediff Rating: