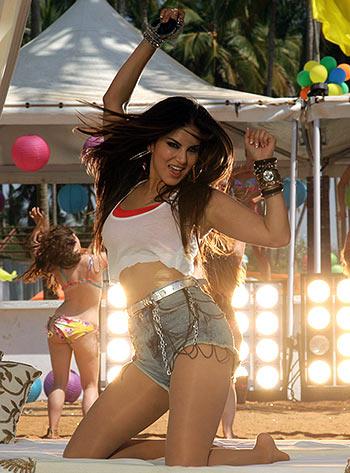 If you're into bikinis and Gujju stereotypes, you might want to catch the weekend show of Kuch Kuch Locha Hai, say Sonil Dedhia and Hitesh Harisinghani.

After the success of Ek Paheli: Leela, Sunny Leone returns to the big screen with Kuch Kuch Locha Hai.
Sunny plays Bollywood star Shanaya, who lands up in Kuala Lumpur, Malaysia, for a Valentines Day contest where she will meet a lucky winner, Praveen Patel (Ram Kapoor).

Also, Shanaya needs to stay with a Gujarati family as part of her preparations for her next movie.

She seeks Praveen's help, who slyly manoeuvres his wife out of the house to welcome his secret crush in.
Double entendre-packed dialogues, item numbers, and titillating scenes make up debutant director Devang Dholakia's Kuch Kuch Locha Hai even as Sunny Leone and Evelyn Sharma's décolletage vie for maximum screen time.
Rediff.com's Sonil Dedhia and Hitesh Harisinghani try to make sense of the film:
Hitesh: Dude there are only eight people in the theatre.
Sonil: I wonder how Sunny Leone's films earn so much money.
Hitesh: As expected, Sunny Leone's bikini dance right at the start of the movie.
Sonil: Yes, it's a bikini and cleavage show. This is what her movies are all about.
Hitesh: And we also have Ram Kapoor acting like a SWAG.
Sonil: You bet! I wonder what the director was smoking while shooting the film.
Hitesh: So we have a stereotypical Gujarati character here doing garba and eating dhoklas, theplas, and undhiyon.
Sonil: This reminds me of a joke: A Gujju may get tired after 10 minutes of walking but can do garba for five hours!!!

Hitesh: You are a Gujju, do you guys eat these things all the time?
Sonil: If that was the case, I would be the size of Ram Kapoor.
Hitesh: One more song. And we also have Evelyn Sharma in a bikini.
Sonil: The film is a bikini and cleavage fest.
Hitesh: Did you notice the six packs of the debutant actor Navdeep Chhabra?
Sonil: Ya, his six packs and Ram Kapoor's family pack. None of it can save the film.
Hitesh: We're 45 minutes into the movie and we have just seen Sunny Leone in one song.
Sonil: I paid to watch Sunny Leone and not close-ups of Ram Kapoor screaming his lungs out.
Hitesh: Honestly tell me do you like Sunny Leone?
Sonil: This is the first time I've come to watch a Sunny Leone film in a theatre.
Hitesh: But I am sure you've seen her previous films?
Sonil: The Bollywood films or the one available on the internet?
Hitesh: (blushing) One thing is sure. She is H-O-T.
Sonil: I agree. Ram Kapoor has covered the entire screen but I still can't get my eyes off Sunny.
Hitesh: I don't understand why the director made this film.
Sonil: I don't think he is fit to be called a director. When did Kuala Lumpur become Mumbai.
Hitesh: This is called cinematic liberty.
Sonil: Okay Mr director
Hitesh: Wasn't this film supposed to be a comedy?
Sonil: Is there anything that you like in the movie?
Hitesh: Yes. The interval.
Sonil: I think we need do (two) tequila shot after watching this movie
Hitesh: Yes aaj raat ko Daaru pi ke dance kare.
It would make perfect sense to give this film a miss, unless you are into bikinis and Gujju stereotypes.
Rediff Rating: