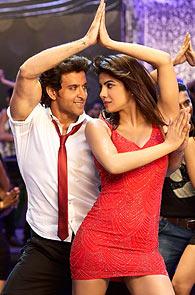 Krrish 3 could have been a much better film if it had been a tad more original, says Paloma Sharma.

It's a bird!

It's a plane!

Oh wait, it's a rip off of films such as X-Men, Spiderman, Batman, The Avengers and (embarrassingly enough) even The Incredibles and Megamind.

Rakesh Roshan's Krrish 3, starring (surprise, surprise!) Hritik Roshan is the third instalment of the Koi...Mil Gaya series - of which Krrish 2 is still missing. In this film, we see Krrish (Hritik Roshan) pitted against a powerful army of mutants, controlled by the mastermind Kaal (Vivek Oberoi), who want to destroy the human race.

The suspense haunts the audience: who will emerge victorious?

(5 marks for the right answer)

While Superhero v/s Supervillain isn't exactly the most original theme out there, it has been used as framework to build on newer, more interesting layers in other films. Hence it was a shock that a mega-budget project like Krrish 3 couldn't manage to do the same.

Hritik Roshan, who is usually amazing and was particularly spectacular in films like Lakshya, Guzaarish and Zindagi Na Milegi Doobara seemed energetic - maybe a little too energetic - and ended up being a tad over the top. So filled with emotion was Roshan that he kept shivering every time things got a bit serious. However, he did a good job of doing a double role. Even though he played his own father, Dr. Rohit Mehra, without much alteration to his appearance, it did not seem like both characters were being portrayed by the same actor at all.

Kangana Ranaut has gotten significantly better from her darker days, which means that she is almost bearable now.

Almost.

While Ranaut could really use some more work on dialogue delivery and diction, she has perhaps delivered the best performance in this film (and that says a lot).

Meanwhile, Priyanka Chopra, who kept insisting that she's the heroine of the film, only seemed to exist to be in trouble and cry out for help, and to act as a vessel for reproduction and furthering of the franchise.

Vivek Oberoi should perhaps stick to Bollywood's gangster films because that's where the anger, the cheesy dialogues and the ruthlessness look good. Despite the fact that his acting prowess is only second to Kangana Ranaut's in this film (yes, I'm serious) we've seen Oberoi do a lot better.

The performances could have been a lot better,
considering the potential of these stars, as could have been the music. For instance, sample this - "
Raghupati raghav raja ram
/ Non-stop party/
Aaj ki party
/ Celebrations
tere naam
".
Makes total sense.
No, really.
The background music gets too loud at times, especially during the gory action sequences, pulling a la
Singham
on the audience.
Songs pop in when least expected (or needed) and the situation becomes highly awkward for the viewer who cringes, winces and squirms in his/her seat every time the lead actors breaking into song, lip synch-ing to things like "God, Allah aur Bhagwaan/Ne banaya ek insaan" or "You are my love/You are my dove/You're my cuddly pudding pie/Tere kadmon mein dil rakh dun/Until I'm gonna die".
And no, I didn't just make that up.
Krrish 3
might not seem great when you look at it as a film, but if you look at it as a 150-something minute long advertisement for all the brands that the lead actors, specifically Hritik Roshan, endorse, its award-winning material.
Signs and symbols of said brands have been squeezed into every space possible.
Even if
Krrish 3
does not earn too much on ticket sales, it is bound to rake in HUGE profits thanks to advertisers and merchandise.
Kids are already going crazy about the video games and the toys, despite the film being unsuitable for children. The violence is too graphic, the romantic sequence during the song 'Dil Rakh Dun' too suggestive and at one point in the film a 5-6 year old child actually asks, "Kyun? Phat gayi?" without any adult reprimanding him.
Nevertheless,
Krrish 3
's packaging is fairly pretty Yet, it cannot be called amazing in the time of films like
Avatar
and
Gravity
.
I'm not even going to bother rating this film because that way I'd have to rate all the films that it was lifted from. You can make the most beautiful copy of the Mona Lisa, but it's still just going to be a copy. As a fan of Rajesh Roshan's music, Rakesh Roshan's direction and Hritik Roshan's acting abilities, it is heartbreaking for me to watch
Krrish 3
and see the out-right copying that they have stooped to. It makes me wonder why artistes of their standing would even want to associate themselves with such a film, much less actively promote it.
All of that aside,
Krrish 3
could have been a much better film if it had been a tad more original. The blatant plagiarism from other superhero films, the
absolute
lack of creativity, has made me lose respect for the makers and the film itself. In conclusion, after watching
Krrish 3
, all I can say is that I need a therapist.
Rediff Rating: