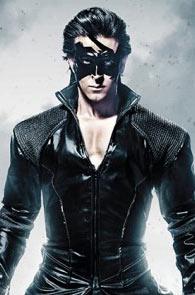 Sukanya Verma says Krrish 3 is a outrageous mishmash of Bollywood sentimentality meets E.T. meets Superman meets X-Men with set pieces, sound design and screenplay structure liberally borrowed from Hollywood's imagination.

'Fusion is the future,' predicts Vivek Oberoi as Kaal wearing a complexion that's perplexing for a non-vampire and conviction that's better suited to a gourmet chef.

Product of a lab experiment gone awry, which leaves him with Professor X's powers and paraplegia, Kaal runs a research facility. One that churns out mutants at the speed of a palak paneer dosa, who assist the pale dude in creating both, viruses and antidotes, so enterprisingly, they'd put Santa's Elves to shame.

Kaal addresses these half human, half beast monstrosities as Maanwars. Of these only a guy, an X-Men's Toad rip-off, with a tongue that resembles bubblegum and behaves like Rapunzel's hair and Kangna Ranaut's shape-shifting Mystique, er, Kaya, get maximum screen time.

Amitabh Bachchan's booming baritone introduces Kaya as 'Science ka karishma' What's truly miraculous is just how her precariously-tailored costume averts any wardrobe malfunction while she freely somersaults and leaps off skyscrapers like Catwoman.

Even so, Kangna does exceedingly well for herself. There's marked improvement in her diction, demeanour and timing. Limited duration cannot restrict her flair (you cannot talk about this film without mentioning that word) to convey the tender complexities of her dual persona. Her co-star Priyanka Chopra is mostly wasted as Krrish's rollover romantic interest.

This variety is what Krrish is up against in his second avatar as superhero and third film as franchise in filmmaker Rakesh Roshan's ambitiously-scaled, action-packed and blatantly-inspired Diwali offering targeted at kids.

Even the dialogues carry a simplistic tone, an easy mix of English and Hindi to communicate technical jargon, like they do in the dubbed Doraemon series on television.

Roshan Senior's movies have never been about layers or nuances. Be it Khudgarz, Khoon Bhari Maang, Kishen Kanhaiya or Karan Arjun (HR may have paid a fleeting tribute to Raakhee in one scene), he's known to play up a traditional narrative and play to the gallery. At times, bordering on corny. On occasions, beyond it.

The desi superhero flick doesn't always retain the grandiloquence but cannot resist the urge to go overboard or absurd, at which I laughed anyway.

There's not much intentional humour in Krrish 3
save for a needless track featuring Rajpal Yadav and Rakhi Vijan. Roshan's script makes up for this insufficiency with some hilarious moments courtesy Vivek Oberoi's global destruction threats two seconds after a transplant (in a bathroom robe), his blink and bomb skills, reversed Darth Vader speech or that epic face-off with the cameras.
Oberoi muzzles a part that's screaming for enigma and quirk with seriousness and scowl. The upshot is a villain who's funny not fun.
The special effects are completely devoid of elegance or finesse but the fights/thrills are a compelling and dynamic compensation for the dip in momentum caused by Rajesh Roshan's lumpy soundtrack.
Krrish 3
beats
Yaadein
hands down in terms of unabashed product placement (Spot Sussanne Roshan's lifestyle store, The Charcoal Project — the only unhurt piece of architecture amidst the Man of Steel-inspired ruinous battle). You cannot imagine the extent a brand of pen is woven into this script and its bombastic conclusions.
Unlike the caped/masked/spandex-suited icons of the genre with years and years of comic book history to source from, Krrish is a outrageous mishmash of Bollywood sentimentality meets
E.T
. meets
Superman
meets
X-Men
with set pieces, sound design and screenplay structure liberally borrowed from Hollywood's imagination.
Still, this isn't a sudden realisation.
Koi...Mil Gaya
and
Krrish
amply underscored the pattern. Yet, every time, it worked, on the strength of Hrithik Roshan—his energy, verve and a conspicuous sincerity that renders his dramatised pursuit for justice a gleaming credibility. If it worked for you then, there's no reason it will not again. In
Krrish 3
, he comes to the rescue of planes, traffic, kids, epidemics and Mumbai city as the masked messiah and invents sunny breakthroughs while chomping on Bournvita and gurgling 'heh-heh' as his scientist dad.
As the regular guy, though, he doesn't make any headway. Hrithik appears far too groomed and spruced up to pass off as security guard or waiter. He comes alive, as an actor and character, only when he's in his superhero suit or Rohit's get-up, successfully creating two distinct identities.
I am all for a sculpted physique but his needless display of god-knows-how-many-packs torso made me nauseous. Extending the same goodwill with which he explains to a little boy not to try dangerous stunts at home, I'd advise HR to go easy on the gym.
It's not original. It's not subtle. What
Krrish 3
is is astonishingly eager to entertain with its stock of doodads that should amuse if not endear.
Rediff Rating: