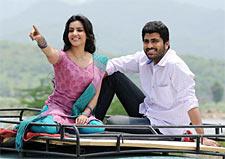 Radhika Rajamani feels that Telugu film Ko Ante Koti makes for a fairly engaging watch.

After
Avakkai Biryani
, Anish Yohan Kuruvilla switches genres with
Ko Ante Koti
and comes up with a crime and romance drama.
This film has an ensemble caste with Srihari and Sharwanand in the lead roles and Priya Anand paired opposite Sharwanand.
Anish does well to write a slightly different script that captures the mood. The camera work of the debutant cinematographer pair of Erukulla Rakesh and Naveen Yadav, and some good music by Shakti Kanth Karthick -- yet another maiden effort -- add greatly to the appeal of the film.
The twists and turns keep one engaged but in between the film tends to drag a bit. Given the subject one expects more edge-of-the seat suspense.
Vamsi (Sharwanand), Maya Master (Srihari), Chitti  (Lakshman) and PC (Nischal) gang up to commit a jewellery heist, cracking open a locker that is under heavy security surveillance.
Each of them has a past and is good at something. While Vamsi is proficient at climbing buildings, Maya Master is adept at opening lockers and Chiiti is good at cutting wires/cables.
Sathya (Priya Anand) meets Vamsi when he is wounded in the village and gets him admitted to hospital. Vamsi slowly falls in love with her.
She does street plays on social
issues such as child labour, dowry etc. Vamsi doesn't reveal his past and they go their separate ways.
All the while Inspector Ranjit Kumar (Vinay Varma) is gunning for these four who are known as the dongres (rogues). Finger Frederick and Puranik are also after them.
There seems to be a whiff of Delhi Belly in the bond between Chitti and PC (who is fat), their place of residence and to some extent their lifestyle.
The narrative goes back and forth. The village scenes and the street theatre and romance look fresh but are a tad lengthy.
The first half could have been more tightly edited.
The film picks up in the second half and is more watchable. Characters such as Inspector Ranjit and Finger Frederick remind one of kitsch detective novels. 
The acting by Srihari, Sharwanand and Priya Anand enhance the film. Priya has tremendous screen presence and looks pretty in the film. 
Srihari is a seasoned artiste who assumes any role easily. Here he shines as Maya Master in a raw, 'ruffian' role.
Sharwanand shows he is a good actor. He lends a certain dignified presence even though his character is on the wrong side
of the law. He is also the producer of the film.
The film is technically slick too. With crime, violence, romance, suspense all rolled into one film,
Ko Ante Koti
is nevertheless fairly engaging.
Rediff Rating: