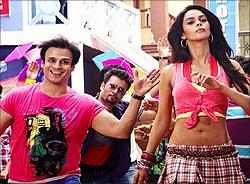 KLPD (Kismet Love Paisa Dilli) is Ek Chalis Ki Last Local set in New Delhi, writes Rohit Khilnani

Before
KLPD
, director Sanjay Khanduri made
Ek Chalis Ki Last Local
in 2007 and since he got it right back then, it seems he decided to use the same plot for his second film, only changing the backdrop and actors. So Mumbai becomes Delhi and the local train is replaced by the Delhi metro.
But unlike his first film,
KLPD
is teeming with lame stereotypes. Homosexuals, especially, have been portrayed in an exaggerated manner. The jokes only get more stereotypical and distasteful. Girls are called
Totta
(a New Delhi slang for a hot chick), all the city cops are out to break every law, a young Sikh kid is asked, "
Barah baj gaye kya
?" and all middle class boys are a bunch of embarrassing skirt-chasers.
The film opens with Delhi boy Lokesh entering a metro station at night and trying to flirt with the women in his compartment. Enter Anamika (Neha Dhupia), who requests Lokesh to deliver a letter to her husband who is waiting for her a few stations ahead.
Lokesh opens the letter and finds that it is a suicide note which says the person holding it is responsible for her death.
Within minutes, Anamika is shown to have died on the metro tracks.  A flashback of the events that occurred in Lokesh's life over the past twenty four hours follows.
It primarily is a muddled mess that revolves around how Lokesh meets his lady love Lovina, but also gets stuck with a video tape that has a sting operation exposing a politician. Given all that transpired, it must have been a really long day.
Vivek Oberoi plays his role sincerely in the beginning. But his act gets annoying soon, thanks to the faltering script. Mallika Sherawat does little else than flit between her Haryana and Los Angeles accents. 
Ashutosh Rana plays a gang leader in a very insignificant role.
Some clever writing could have helped this film but dialogues like '
Har kisi ki dukaan har taraf se khulti hai
' and '
Mai kisi aurat ko nahi jaanta, mai to virgin hoon
!' make it even worse.
Music by Amjad-Nadeem is below average and the songs are thrown in arbitrarily at regular intervals.
Here's hoping that director Sanjay Khanduri lets go of his obsession with last trains and metros moves on to make something different and entertaining.
Rediff Rating: