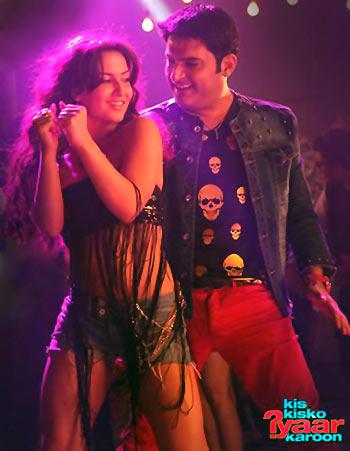 The composers of Kis Kisko Pyaar Karoon know its audience well, says Aelina Kapoor.
Kapil Sharma makes his acting debut in Kis Kisko Pyaar Karoon, and the film promises to stay true to his hilarious reputation.
A plethora of artists have been roped in to make the right music, right from composers Dr Zeus, Tanishk Bagghi, Javed-Mohsin and Amjad-Nadeem to lyricists Shabbir Ahmed, Arafat Mehmood, Raj Randjodh, Mavi Singh and Bhinda Bawakhel.
Kanika Kapoor continues from where she left off in Lovely (Happy New Year) and rocks the show all over again with Jugni Peeke Tight Hai.
This time, her 'Jugni' avtar is drunk and unapologetic. Her partner-in-crime is Divya Kumar and together they make sure that yet another party number is added to the Bollywood musical repertoire this year.
Those who like their music to be rooted, there is DJ Bajega To Pappu Nachega which is a complete antithesis of Pappu Can't Dance Saala.
If that Imran Khan number was a groovy urban affair, this one has a 'desi' feel to it and yet makes sure it will be included in the city's nightclubs.
Wajid (of composer duo Sajid-Wajid) lets his hair down for this fun track sung by Ritu Pathak and Shalmali Kholgade. Danish Sabri contributes in the rap portions. A sure shot hit.
Shreya Ghoshal and Jubin Nautiyal get together for a romantic song called Samandar. One doesn't really mind this melodic number, but it makes one believe that when it comes to singing around trees and exploring exotic locations, Bollywood will continue to stick to the basics for many more years to come.
After that, the genre shifts to trance with Kaur B's Bam Bam. Kapil Sharma debuts as a singer here. While he does a fair job, it is Kaur B's vocals that stay with you till the end, as they bring in a seductive appeal that compliments Elli Avram, who features in the video. A remix version follows, and the sounds of Bam Bam continues to reverberate in your mind.
Billi Kat Gayee isn't as catchy but still manages to keep a hold on its listener. Sung by newcomer Rajveer Singh, the song takes a fun approach. There is a spark in the proceedings once Ikka steps in with his rap portion and makes the song his own.
Hum To Yaaro Latak Gaye, as the title suggests, is about a man caught in a precarious situation. More of a brief musical interspersion than a full-fledged song, this one has Kapil Sharma taking charge behind the mike again. It's largely forgettable.
The composers of Kis Kisko Pyaar Karoon know its audience well. There isn't anything particularly memorable about the music but in the space that the story unfolds in this Abbas-Mastan's family comic entertainer, the music manages to do much better than just fit into the proceedings.
Rediff Rating: