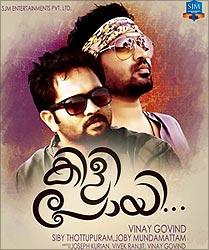 Malayalam film Kili Poyi is for people who enjoy adult entertainers, writes Paresh C Palicha.

The term 'new gen cinema' has become a catchphrase in Malayalam film industry in recent times. It has come to mean films telling urban stories, adopting complicated non-linear or parallel narratives. But Kili Poyi, considered to be in this genre, made by a totally new and young team, tells a simple story in a straightforward way.

Directed by Vinay Govind (who has a degree in visual communication and has worked with director V K Prakash for the last few years) Kili Poyi, is basically a homage to the cinema of the 1980s made by people like Priyadarshan and Sathayan Anthikkad.

Chacko (Asif Ali) and Hari (Aju Varghese) are holed up in an advertising job in Bengaluru. Chacko enjoys life to the hilt without feeling the pressures of work (he is on a high most of the time). Chacko suggests that they take a short holiday and go to Manali to relieve Hari's stress.

They miss the flight and drive to Goa instead. There they get lucky with girls and ganja before getting into trouble and being chased away.

There is more trouble waiting for them on their return.
They find a bag full of cocaine in the back seat of their car. After many failed attempts to discard the stuff, they decide to sell it and that brings more trouble.
The writing credits go to the director and two newcomers -- Joseph Kurian and Vivek Ranjit. The dialgoues, peppered with generous doses of Malayalam, English and Hindi expletives lend a realistic appeal to the film.
The other interesting thing about this film is that little is said directly about the background of the characters, yet they don't come across as unexplored in any way.
There are plenty of tributes too here: Dasan and Vijayan from
Nadodikkattu
(1987) and its sequels are referenced. The others range from legendary American filmmkaers Martin Scorsese to Quentin Tarantino and Farhan Akhtar to Siddique Lal. Some of them are openly mentioned while others are conveyed in a subtle way, adding to the humorous undertone.
Asif Ali and Aju Varghese fit the bill as restless youngsters. They are natural throughout. Senior actor Sampath as a police officer who is a drug dealer in uniform, looks odd as a serious villain in this comic caper.
Kili Poyi
, is the film for you if you like adult entertainers.
Rediff Rating: