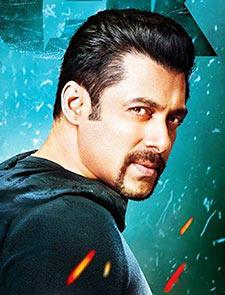 The soundtrack of Kick is total paisa vasool for Salman Khan's fans, writes Nishevitha Vijayanand.
Music composer Himesh Reshammiya teams up with his mentor Salman Khan in the upcoming film, Kick.
Meet Bros Anjjan and Yo Yo Honey Singh chip in with one song each as well.
Kumaar, Shabbir Ahmed, Mayur Puri, Yo Yo Honey Singh and Jasmine Sandlas share the credit for the lyrics.
The album opens with the foot-tapping Jumme Ki Raat, which has already raced up the popularity charts.
Mika is at his energetic best here and Himesh's tune is befitting a Salman dance number.
Palak Muchhal lends good support to Mika and the catchy hook compels the listener to get on the dance floor quick!
Mika is undoubtedly the star of the show having managed to convert an above average composition into a superhit one with his power-packed rendition.
No wonder then that there is also a racy remix of this track.
Die-hard Salman Khan fans get to hear the superstar singing another version of Jumme Ki Raat. But despite the visible digital enhancement to his vocals, the song sounds a bit off-key.
Palak Muchhal is the female playback yet again and she does a decent job. There is a remix for Salman's version too and it's not much different from the original.
Salman sounds better in Hangover where he is accompanied by Shreya Ghoshal. Composed by Meet Bros Anjjan, Hangover is pleasant but the tune will take time to grow on the listener.
Kumaar's lyrics are quite ordinary and do not reflect the romantic setting of the song but since light-hearted seems to be the theme of this film, it might not end up sounding unusual.
The remix of Hangover gels well with the pace and setting of the song.
There is also a third version of Hangover inexplicably titled MBA Swag! This one sees DJ Angel remixing the track in his usual style.
The third track of the album is Tu Hi Tu, which has six different versions (including remixes)!
The first version is sung by Mohammed Irfan. He does an excellent job, managing to convey the emotions beautifully through his vocals.
Himesh's tune is also quite pleasant and engaging and is one of his better romantic melodies. It is to his credit that he has let the singer take centre-stage by keeping the instrumentation minimal in this simple but beautiful tune.
The remix is all right but unnecessary for a romantic ballad such as this.
Neeti Mohan takes over from Mohammed Irfan for the reprise version of Tu Hi Tu and excels as always.
Mayur Puri's lyrics are beautiful and heart-warming and Himesh's tune makes this an exquisite track.
The house remix version with emphasis on bass and drums has turned out quite well with Neeti's voice well suited to this kind of music.
Salman Khan seems to be enjoying the spotlight as singer and Tu Hi Tu is the third song he has sung in the album.
His throaty vocals seem slightly at odds with the soft romantic melody. But if you can ignore that, Salman has done a satisfactory job.
The remix of Salman's version, though, is completely unnecessary.
The final track of the album is Yaar Na Miley which is also the title track of this album.
Yo Yo Honey Singh collaborates with Salman Khan for the first time, composing, co-writing and singing this track with Jasmine Sandlas.
Jasmine Sandlas is the surprise packet with her rustic vocals turning out to be the highlight of this hip-hop Punjabi cocktail of a song.
It's not a great dance track and Honey Singh sounds quite subdued so Yaar Na Mileymight enjoy only middling popularity.
The soundtrack of Kick is total paisa vasool for Salman Khan's fans.
Rediff Rating: