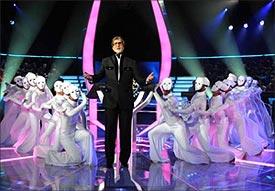 When it comes to entertainment, few succeed like Amitabh Bachchan does.

The 69-year-old's popularity has not just expanded over the decades but sustained itself even in this day and age of instant gratification and disposal.

That alone suffices to make him an ideal candidate to host a game show that involves the common man's participation and interaction. And so, the Big B's back with yet another season of Kaun Banega Crorepati or like he says 'Panchkoti Gyankumbh.'

While our man continues to be delightful and distinct as ever, the sixth season has decidedly lost some of its novelty and fizz. There's no attempt to dazzle the viewers with exciting introductions or alterations into the game by way of lifelines, rules, prize sum or set design. The rules remain unchanged. Ditto for the format -- 13 questions lead to 5 crore with four lifelines -- audience poll, phone-a-friend, double dip and expert advice. Plus the viewer-friendly, Ghar Baithe Jeeto Jackpot. Instead of innovation, there is now extended focus on the participant's history summed up in an extremely personal video clip.

Season 6 kick starts with a crisply dressed Bachchan taking centre stage as KBC host for the fifth time (Season 3 was anchored by Shah Rukh Khan) delivering a dramatic rendition of Ekla chalo re-Gyaan hi aapko apna haq dilata hai mix accompanied by Indian Idol contestants Devendra Pal Singh, Vipul Mehta and Poorvi Koutish.

The theme, we gather from Bachchan's constant emphasis, is to realise the importance of education and ensure it advances beyond merely signing one's name. Such social gestures are fine if intermittent but it seems jarring on a game show if done repeatedly.

The opening episode also takes time to flaunt how participating in KBC has enriched the lives of its past winners like Dhaval Virani, Anita Panwar, Damodar Apte and Rs 5 crore recipient Sushil Kumar, through additional video clips. The Crorepati lad from Bihar appears on the show and jokes about putting on weight because of the prize money and wishes everyone wins as much as him.

Also on the menu is a lovely concert by AB and Chamber choir group of Shillong to a medley of Saare jahan se acha, Aashayein and Rang De Basanti.

If Day one maintains a cheerful, festive tone, Day 2 and 3 are devoted to rollover contestant Manoj Kumar Raina becoming earliest Crorepati of the season.

The serious-looking Kashmiri hopes to build a house in his hometown with the prize money. For Rs 1 crore, he's asked:  In1860 which British official became the first auditor general of India? Without using any lifeline, Raina semi-confidently asks Bachchan to lock Sir Edmund Drummond, which, of course, is the right answer and leaves the man ecstatic and incredulous.
 
Other participants of this 'Gyaan, maan, samaan ka khel' are Amritsar's Surtej Singh. The bubbly Sardar who does a amusing mimicry of Sunny Deol, however, uses up his lifelines in quick succession calling Phone-a-Mom when asked, Which Sikh Guru's birthday is celebrated on Kartik Poornima?

The reliably diplomatic and politically correct Bachchan doesn't t judge. If anything, he reluctantly obliges the young man by breaking into a Bhangra against Sade naal (Mrityuadaata).

The Amritsar boy quits the show after nabbing Rs 6, 40,000 because he's not sure which river was set as the eastern boundary of Maharaja Ranjit Singh's kingdom by the treaty of Amritsar of 1809. (It's Satluj, by the way.)

There's also Manish Kumar Soni from Jaipur who hopes to set up an independent home with the amount he wins so that his wife returns to live with him. Hugely inspired by 3 Idiots, he hopes to pursue a profession of his choice instead of following the family business. The man has an initially comfortable run with Bollywood theme questions from films like Rowdy Rathore and Agneepath.

If someone's here to enhance his lifestyle, some aspire for the greater good of mankind. Like Uma Uttam, a teacher from Kanpur who wants to provide sports facilities in schools and adopt a child to give her a life of affection and privilege, something she was denied as a kid.
Another school teacher, Archana Harale from Nanded, Maharashtra wants to use the winning sum to support a deceased family friend's son.

As always, there's no shortage of the chatty and comical contestant. This time in the form of Kolkata's Koyli Roy who compares Bachchan's beard to a 'kadam ka phool.'  Koyli wants to set up a museum of her 'memories' like the shampoo bottle and tooth brush she used at time of her marriage. It leaves a rather flabbergasted AB and, presumably, the viewer too.

The previous season of KBC also appeared to be less of a game show and more of a platform for charitable causes. While there's nothing objectionable about helping out, it definitely diminishes the competitive spirit of a quiz. Such sentiments are better suited to say, Aamir Khan's Satyamev Jayate, where the very premise is highlighting the plight and injustices of society and its victims.

Also, for all its jibber jabber on 'gyaan' and 'literacy,' the initial round of questions is highly simplistic with the very first question of the season being: Which of these is a title of a film directed by Rohit Shetty? Moreover, it doesn't seem fair that KBC generally sets its questions based on the region a contestant hails from.

When a show has someone as gifted with words and wit as Amitabh Bachchan and a game/format that was born to engage, the focus should be to merge the two as it so successfully did in the earlier seasons. Those who are internet-savvy already get a good dose of their favourite actor and his thoughts on social networking sites and blogs. But it's his raw, spontaneous interactions with the contestants, several of whom are die-hard fans, which made KBC so iconic in the first place.

Consequently, it would be nice if the show's creators uphold its much-adored vibrancy and stop harping too much on the social/financial limitations of a contestant. So that instead of feeling sorry for the player, we would root for what this season truly stands for: knowledge.
Rediff Rating: