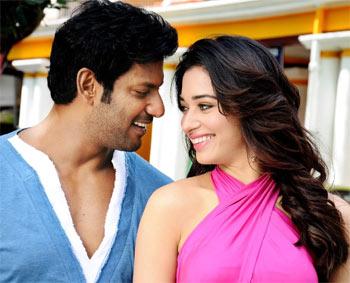 Kaththi Sandai is a tedious action film, feels S Saraswathi.
Suraj's Kaththi Sandai is Vishal's third release this year after Kathakali and Marudhu, both typical commercial entertainers that did well at the box office. The actor seems to be on a spree of signing films high in violence, with some mindless comedy and silly romance.
Kaththi Sandai follows the same template.
Tamannaah, who gave a wonderful performance in Devi, is sadly reduced to just a pretty face with little to do.
The film was in the news for being the comeback vehicle for popular comedy actor Vadivelu, who has been missing in action for the last few years. Though the actor has lost none of his spontaneity, the gags seem repetitive and mundane.
Almost the entire first half of the film is devoted to Arjun (Vishal) trying to woo Psychology student Divya (Tamannaah) with some mumbo jumbo about them being lovers in their past life. The director even takes us back to a rather lame black and white flashback that tests your patience.
Soori, who plays Vishal's sidekick, attempts to bring the lovers together with his silly antics.
Divya eventually falls in love with Arjun.
She introduces him to her brother Tamizh Selvan (Jagapati Babu), the Deputy Commissioner of Police and soon they are to be engaged.
But nothing is as simple as it seems. Arjun has a secret agenda as does Tamizh Selvan. Despite the gravity of the situation, even the second half of the film is loaded with comedy. Vadivelu puts in an appearance as a psychiatric doctor attempting to treat Arjun, who pretends to have amnesia after a car accident.
Both Vadivelu and Soori are known for their excellent comic timing, but appear to be wasted on this poorly-written script.
Except for the Naan Konjum Karuppu Thaan number, music by Hiphop Tamizha does not impress.
Vishal is in his element as the one-man army destroying his enemies with seemingly no effort. The film lacks logic for most part, with songs and fight sequences interrupting every few minutes.
The last 10 minutes of the film is loaded with sentiments and turns preachy, but evokes no empathy. Vishal takes on politics and corruption highlighting the plight of farmers and our villages, but perhaps it is too late and does not ring true.
At two hours and 30 minutes with some drab comedy and absurd romance, Kaththi Sandai is not worth your time.
Rediff Rating: