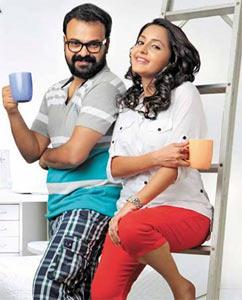 Director Sohannlal does make an impression by narrating a different story in says Paresh C Palicha.

Director Sohannlal tries to explore the complexities of love and marriage in his new film Kadhaveedu. Problems big and small are discussed but the solutions are not easy to find.

The stories of three master writers of Malayalam-- Basheer, Madhavikutty and M T Vasudevan Nair-- are woven into the screenplay and provide their own perspectives.

Raj Karthik (Kunchacko Boban) is fresh out of film school and preparing to make his first feature film. He is in a live-in relationship with Jina (Bhama), a television journalist, who is demanding that he marry her.


He loves her but he is cynical about marriage because he himself is a product of a broken home.

He argues that if they are happy in this open arrangement, why is she insisting on marriage? She says she has to do it for her parents, who had agreed to the relationship thinking that eventually they will get married. He is preoccupied with his film and wants to be done with that.

Simultaneously, we see Raj's film progressing. The first story is about Abdul Khader (Manoj K Jayan) and Jameela (Mallika). Their story occurs in the past when things were less complicated and Raj could easily conclude they lived happily together till they were old.

The second couple whose life Raj portrays is known to him and still around, so it presents its own problems. Major Fredrick (Lal) and Rita (Rituparna Sengupta) were a very happy couple when Raj knew them during his student days. But he is in for a rude shock when he revisits them.

The third story is about Balachandran (Biju Menon), who is trying to overcome the pain of losing his young wife. He has three small children he is bringing up without any help.

The process of bringing these stories to the screen makes Raj realise the importance of Jina in his life.

Kuchacko Boban has to look like a thinking man, an intellectual. He does an okay job of it.

Bhama looks a bit overworked having to carry off the role of a slightly older woman. Biju Menon appears just before the climax and makes an impression with his silent, brooding performance.

Kathaveedu is an above average film that is different.
Rediff Rating: