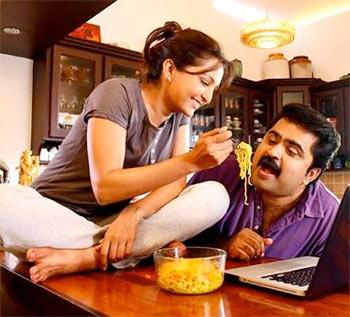 Karinkunnam 6s may lack the depth to be a great film but it's worth a watch, says Paresh C Palicha.
The underdog always achieves success in sports movies. Director Deepu Karunakaran show us that once again in his new film, Karinkunnam 6s.
The film has Manju Warrier as a volleyball coach, who tries to bring together a team consisting of prison inmates.
The story goes like this: her husband Aby (Anoop Menon) is a former player who dreams of having a successful volleyball league.
When he presents the idea to a moneybag (director Shyamaprasad), he immediately gets the idea to make it a real money spinner by fixing matches and having illegal betting to go with it.
Our man will have none of that and withdraws from the league.
Still, he wishes that his team compete in the league. To make things worse, he gets bedridden after a freak accident.
So, it becomes his wife's responsibility to fulfill his dreams. She becomes a victim of corruption prevailing in the system as well, and is left with no option but pick promising players from the jail, where inmates indulge in this sport as a recreational activity.
The film gives the impression that volleyball is popular among people coming from the lower strata of the society, and that's quite surprising.
Unlike in her earlier films, Manju's character Vandana does not transform from a housewife to a feisty coach. If there is any change in her, it is subtle and even in situations where we expect her to be loud, she remains in control without going overboard.
The ensemble of male actors surrounding her -- Anoop Menon, Babu Antony, Sudheer Karamana, Sudev Nair and others in the volleyball team -- are consistent in their parts.
Suraj Venjaramoodu as Nelson, the policeman who is the fear factor among the inmates for his violent ways, is impressive.
Karinkunnam 6s may lack the depth to be a great film but it is a decent watch.
Rediff Rating: