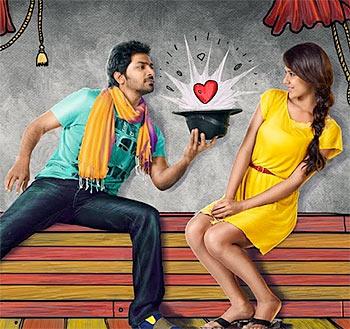 Karthik G Krish's Kappal is thoroughly entertaining, says S Saraswathi.
Director Karthik G Krish, a former assistant of Shankar, makes his directorial debut with a comedy caper titled Kappal.
The film is produced by Shankar himself under the banner of S Pictures.
Vaibhav and newcomer Sonam Bajwa play the lead roles supported by Karunakaran, VTV Ganesh and Arjunan. The film has music by Natarajan Sankaran.
Kappal revolves around five friends and their vow to remain bachelors. They believe that celibacy is the only way to protect their friendship.
Vasu (Vaibhav) and his four friends live in the small town of Mayiladuthurai. Friends since childhood, they have a deep affection for each other.
An incident in their childhood leads them to believe that a woman coming into their life would destroy their friendship. They take a vow to remain unmarried. Though Vasu is a Casanova and not very keen on the promise, he does not want to hurt them.
They grow up and Vasu is now even more determined to find a girl to love and marry. He leaves his village on the pretext of finding a job in Chennai.
Away from their influence, he meets and falls in love with Deepika (Sonam Bajwa), a rich modern girl.

Things are pretty smooth sailing for them, as there is no opposition to their love even from her father, a multimillionaire.
Trouble begins for Vasu when his friends land in Chennai. They are determined to separate the lovers and take their friend back to the village. Caught between the affections of his friends and his lover, Vasu's life becomes hell.
How Vasu solves this dilemma forms the rest of the story.
The film is hilarious in parts and ridiculous and highly exaggerated in others. The scenes that depict their childhood and school days are a laugh riot. The spontaneity of the child actors and their perfect comic timing, launch the film on a positive note.
As they grow older, there are several scenes that have you rolling with laughter, particularly the climax.
Vaibhav, Karunakaran and Arjunan keep you in splits and so does VTV Ganesh, who essays the character of Nelson, Vasu's friend in Chennai.
The scantily clad, slim and pretty Sonam Bajwa seems to be the ideal choice for the ultra modern rich girl who loves her booze.
But the director has been unable to maintain the same level of fun throughout. Some of their pranks are too clichéd and frivolous to be funny.
Constantly demeaning women, portraying her as a demon out to destroy all relationships is hard to digest. Also, women from the city are shown as frequenting pubs, drinking and easy to pick up.
There may be flaws, but there is no denying that Karthik G Krish's Kappal is thoroughly entertaining. But do remember to leave your thinking cap at home.

Rediff Rating: