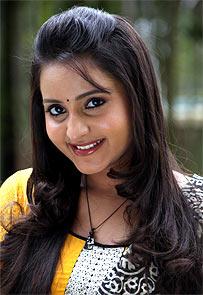 Srikanth Srinivasa says Ambara, starring Yogish and Bhamaa, is a disappointing film and fails to evoke any curiosity, moving along predictable lines.

Director Sen Prakash has squandered a good opportunity to entertain the masses. His Ambara (meaning 'sky') has a disappointing and predictable story line.

Ajay (Yogish) is a final year degree student who falls in love with Arundhati (Bhamaa). He is afraid of expressing his love, fearing her rejection. He decides to finish his studies and settle down before proposing to her.

He is unaware that Arundhati is also in love with him. When her parents find a match for her, she refuses saying that she is in love with someone else.

Ajay is framed in a murder case involving a realty deal after he joins his
friend in the real estate business. He goes into hiding.
Arundhati goes in search of Ajay. Her parents take her to Haridwar and Ajay lands up in Haridwar too.
Yogish acquits himself well in the fight sequences, but otherwise doesn't have a part that shows his acting skills.
Bhamaa is pleasing, but she is seen too often in the same kind of roles. Tilak is wasted. Sadhu Kokila provides some laughs. Rest of the supporting cast does not have much to do.
Abhiman Roy's music has one good number,
Saniha;
the others are average.
Cinetex Suri's cinematography is the saving grace of the movie. He has captured the scenic beauty of Haridwar, Rishikesh and the plains of the Ganges.
Ambara
is a disappointing film, moving along predictable lines.
Rediff Rating: