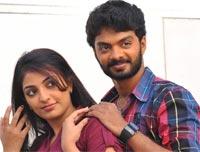 Paresh C Palicha feels that Malayalam film Kana Kompathu is a shoddy attempt at filmmaking. Post YOUR reviews here!
Being a movie-watcher is akin to being on a perpetual roller-coaster. One film
(Aadaminte Makan Abu)
can make you feel on top of the world while another throws you down in the dumps.  
Kana Kompathu
directed by newcomer Madhavan and written by Madhu Muttam (who can be termed a 'one film wonder' for writing the script of Fazil's cult classic
Manichitrathazhu
some 30 years ago) is distinctly in the latter category. The story is stale and the production values are tacky.
It begins with veterans like KPAC Lalitha, Kalasala Babu and Jagathy Sreekumar, giving us false hope. As the youngsters start appearing on the scene, the storyline becomes boringly predictable.
Mythili plays a typical 'damsel in distress', who is chased by some hoodlums, jumps into a bus and finds herself sitting beside
the hero played by Vinod Krishnan who unintentionally becomes her protector. During the rest of the first half the two play hide-and-seek with each other and keep fighting.
Then the action shifts to an expensive resort near the backwaters where the hero meets his two other friends played by Vinay Fort (of
Ritu
fame) and newcomer Dipusanth (brother of cricketer Sreesanth). Their stay in the posh resort is sponsored by a wealthy conglomerate and the instructions are that they should be treated like owners of the place and their every wish should be fulfilled. The purpose of their stay here is a mystery to everyone.
The comedy is supplied by Suraaj Venjaramoodu as a waiter who will do anything for the guests to get a generous tip, but the humour is crass to say the least.
Kana Kompathu
may have a laudable purpose in trying to show how educated youngsters are wooed by terror outfits because they are pressurised by their families to be financially successful as soon as they complete their education, and how unethical practices prevail in private medical institutes. But it falls flat on its face in trying to do so. You want to listen neither to the message nor the messengers. 
Rediff Rating: No Stars