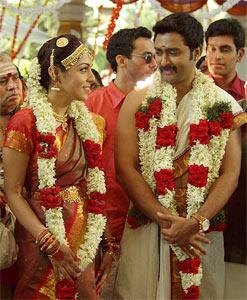 S Saraswathi says Kalyana Samayal Saadham is not just about a big fat Indian wedding but also highlights the emotional and sensitive topic of stress-related erectile dysfunction that is becoming an increasingly common problem among the modern youth.

Prasanna and Lekha Washington team up for Kalyana Samayal Saadham, a romantic comedy written and directed by debutant R S Prasanna.

The film is co-produced by Arun Vaidyanathan, director of the critically acclaimed Achamundu Achamundu, and distributed by C V Kumar's Thirukumaran Entertainment along with ABI TCS Studios.

Despite its title, Kalyana Samayal Saadham (Marriage Feast) is not just about a big fat Indian wedding.

Besides all the rituals and ceremonies that form an integral part of a traditional wedding, KSS also highlights our belief in horoscopes, blind superstition and the various ego issues that crop up between the families of the bride and groom before and during the wedding.

In addition to all this, the primary focus of the movie seems to be the rarely spoken of and intensely sensitive subject of impotency.

KSS has been in the news since the release of its innovatively presented promotional video song, Mella Sirithai that went viral on all the social networking websites.

Raghu Viswanathan (Prasanna) and Meera Chandrasekaran (Lekha Washington) are both engineers belonging to typical Brahmin families. Too busy with their respective careers, they decide to outsource the job of finding their life partners to their parents.

After carefully scrutinising the various matrimonial websites and taking into account the job profile, annual salary and family background, Meera's parents zero in on Raghu.
After the traditional 'bride seeing' ceremony, the families believe that Raghu and Meera would make an ideal match, and the couple gets engaged. The wedding is eight months away and the beautiful period of courtship begins.

Raghu and Meera slowly get to know one another, while their parents are busy making rounds of wedding halls, decorators, caterers and musicians.

Then, with just a month to go for the wedding, there is a big twist in the story.

It is Meera's birthday, and after a huge party with friends, alcohol and wine, the couple feel that with the wedding just a month away, it would not be wrong to get intimate. To Raghu's shock he realises that he is impotent.

What happens now? What do the couple decide? Will they call off the wedding and disappoint their families? All this and more in the second half.
Prasanna deserves special credit for playing a role that most actors would hesitate to take up.

Lekha is perfectly cast as the modern bride, who knows exactly what she wants from life and at the same time has a healthy respect for family and traditional values. Director R S Prasanna has chosen to handle an extremely sensitive subject with humour rather than being overly dramatic.

He also manages to bring in all the fun and excitement of a typical Tamil Brahmin wedding; the Kancheevaram-clad mamis, who love to gossip, and the silk-dhoti mamas, add a nice touch.

The background score by Arrora is also a plus, especially the popular Mella Sirithai and the Pallu Pona Raja number sung by actor Prasanna himself.

Kalyana Samayal Saadham is a creative, funny, yet thought-provoking film.

Rediff Rating: