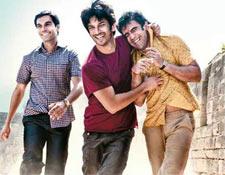 Kai Po Che works because of its earnest and very talented cast, writes Aseem Chhabra.
We can blame Farhan Akhtar for it. Or maybe even thank him for starting the trend of male bonding in Hindi films with Dil Chahta Hai, where each actor had practically equal time, although there was one big star, Aamir Khan, among the three.
The idea was to look at male friendships in more or less real terms, have the characters speak, act, and live like normal people do, and to de-Bollywoodise a Bollywood film.
That trend continued in Farhan's home production Rock On!! (directed by Abhishek Kapoor), and to some extent in his sister Zoya's first feature, Luck By Chance, and then again in her second film, Zindagi Na Milegi Dobara.
Meanwhile, Chetan Bhagat -- that self-appointed, but hugely successful, observer of the lives and aspirations of middle class Indian youth -- was writing his own tales of male bonding in modern India. His novel Five Point Someone became the immensely popular 3 Idiots, giving additional meaning to friendship among men.
And now we have one more case of the Indian male buddy movie inspired by another novel by Bhagat, The 3 Mistakes of My Life.
The author was so impressed by Kapoor's Rock On!! that he sent the filmmaker a copy of his book. Now a few years later, we have Kai Po Che, perhaps the first film in the genre, not to be entangled in the Bollywood star system.
Instead, the film uses keen and talented raw actors, who will not be judged by their star status as one would do with a Hritikh Roshan or Aamir Khan.
The result is that Kai Po Che is a very fine film, refreshing in its approach, as it is set in Ahmedabad and not among the elite of Mumbai. The film's stars Sushant Singh Rajput, Amit Sadh and Raj Kumar Yadav (he has had the most big screen exposure among the three in films such as Talaash, Shahid, Chittagong, LSD and Gangs of Wasseypur) appear to be very comfortable in the middle class settings.
By their own admission, Kapoor and Bhagat (the two co-wrote the script along with Pubali Chaudhuri and Supratik Sen) cut the novel to a minimum level, leaving out chunks of the book's narrative while focusing on the friendship of the three protagonists, and how their relationships are tested during the devastating earthquake in Gujarat in 2001, followed by the communal riots in 2002.
Bhagat has stated that Kapoor's film is much better than his book, an improvement over what he wrote. I have not read the book, but I have no reason to doubt him.
In the world that Kapoor creates we have three young men, who start with the goal of opening a cricket shop outside a temple, and also an academy for young teens. But their hopes and aspirations take different shapes.
Govind (Yadav), the quieter, and most balanced of the three, has the head for business and the store is his primary focus; Omi (Sadh), in seeking financial support for the shop, gets drawn into a Hindu political party led by his uncle; and Ishaan (Rajput), the most charismatic and impulsive, finds his faith in the sport of cricket and especially in a young Muslim prodigy, who he accidentally discovers.
Their commitments will pull them in different directions. But suffice is to say that there is a reason why Kai Po Che's English title is Brothers For Life.
A former actor, who struggled to find a footing in Bollywood, Abhishek Kapoor is in strong command in this small film (it is definitely smaller in its feel as compared to Rock On). He ably captures the details of connections between the three protagonists, some thrilling cricket moments, earthquakes scenes and the aftermath, and one very intense and believable moment of communal violence.
Unlike some loud, over-the-top scenes of Gujarat violence in Parzania, Kai Po Che projects the complex scenario in a believable and gripping manner. It is very difficult to stay real while handling violence of this nature. Mani Ratnam set the bar towards the second half of Bombay, but in a smaller way, Kapoor also succeeds in bringing the frightening reality of the Gujarat riots.
If Kapoor fails to a small extent, it has to be in his attempts to minimise the political tone of the film. And so, he deliberately gives the Hindu party a red flag and the Muslim group some form of a green one.
In trying to camouflage the political organisations, while still referring to real events -- the Godhra train killings, for instance -- Kai Po Che somewhat confuses the situation. But then, as the past has shown, bringing up complex and ugly issues such as religious violence always riles up one group or another in India. Hopefully, that will not happen with Kai Po Che.
The film is beautifully shot and brightly lit by Anay Goswami (The Japanese Wife and No One Killed Jessica). Amit Trivedi's compositions set to the lyrics of Swanand Kirkire produce some memorable songs, especially Manja.
Ultimately, Kai Po Che works because of its earnest and very talented cast -- Yadav, Sadh and especially Rajput, who gives a new meaning to the expression, 'the idealism of the youth.'
Amrita Puri is very likable as Vidya, Ishaan's sister and Govind's love interest. Together, these actors have created a special film.
Rediff Rating:



Also Read
Review: Kai Po Che totally works