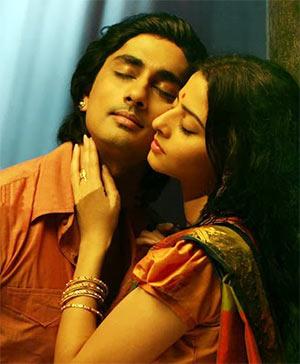 Tamil film Kaaviya Thalaivan is a thoroughly enjoyable experience, says S Saraswathi.

After the spectacular success of the National award-winning Veyil and Angaadi Theru, director Vasantha Balan came up with a period drama titled Aravaan, which wasn't a commercial success.

Undeterred, this master of unconventional cinema has attempted yet another film set in the bygone era.

Starring Siddharth and Prithviraj, Kaaviya Thalaivan brings to light the lives and times of drama artiste during the 1920s and 1930s, when stalwarts like KB Sundarambal and SG Kittappa took the theatre world by storm.

Ganakokilam Vadivambal, the character essayed by Vedhika in the film is inspired by KB Sundarambal.

At the heart of the plot is the intense rivalry between two extraordinary drama artists, who belong to the same drama troupe. Kaliappa Bhagavathar (Siddharth) and Gomathi Nayagam Pillai (Prithviraj) grow up together under the guidance of their guru, Sivadas Swamigal (Nassar).

While Gomathi is hardworking and dedicated, fun-loving Kali is the natural performer.

His effortless talent and innovative style wins him appreciation of his guru.

This is unbearable to Gomathi, who believes he deserves all the laurels.
Meanwhile, Vadivambal joins their troupe.
For Gomathi, it is love at first sight, but Vadivambal falls hard for Kali.

Kali, however, is in love with Rangamma (Anaika Soti), the daughter of a local king.
When Gomathi learns of this affair, he finds a way to deceive Kali.

How this jealousy, anger and desire destroys the drama troupe, their lives and career, forms the rest of the story.

This is a role of a lifetime for Siddharth, a truly memorable performance. He sports innumerable looks in the film and is perfect in every one of them, totally at ease with the character and the body language.

Equally adept are Prithviraj, Vedhika, Nassar and Thambi Ramaiah.

Nirav Shah's camera, make up by Pattanam Rasheed and costumes by Perumal Selvam and Niranjani Agathiyan, of Paradesi fame, offer a ringside view into the lives of theater artists in the pre-Independence era.

Veteran Tamil writer Jeyamohan, who has penned the dialogues, has shown how mighty his pen can be.

On the downside, the spotlight seems to be focused a little longer than necessary on Siddharth, strengthening his character. Prithviraj and Vedhika are left holding the short end of the stick.

Music by AR Rahman anchors the film well.

Every song takes you back to an era that glorified music and understood its nuances.

They form an integral part of the film and give greater depth to the narrative. There are a multitude of songs, but every song is handled differently, ensuring a thoroughly enjoyable experience.

The film is definitely worth a worth.

Rediff Rating: