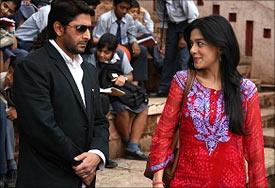 Jolly LLB is funny in parts but preachiness and the need to flaunt the film's sincerity and heart get in the way, writes Raja Sen.

About twenty minutes or so into Subhash Kapoor's Jolly LLB, leading man Arshad Warsi who plays the titular lawyer is told that he's graduated to authentic legal status, and will thus be addressed by his surname, Tyagi. In other words, jolly no more.
The film here decides to start playing it straight, which is significantly disappointing given the quirks tossed around all over the opening sequences.

That effortlessly hilarious actor Brijendra Kala sits behind a deliciously intriguing notice-board declaring him to be "Advocate. Astrologer. President." but vanishes once the film forsakes comedy for drama. As does the gruff judge who texts her lover using the word "jaanu."
And so it is that Arshad Warsi -- who starts things off bribing said judge with bundi laddoos and fervently defending a ridiculously unscrupulous doctor with recordbreaking ambitions -- grows himself a conscience and starts fighting for the justice of trampled pavement-dwellers.

Which is all rather admirable but decidedly boring, and exhaustingly predictable. All in all it turns out to be a middling drag completely lacking in surprise, with some lines that appear funny because of the actors delivering them.
Boman Irani, for example. Forced to mouth lines like "do kaudi ke vakeel" and refer to someone as a "honest bloody Indian," Boman makes his smarmy villain Rajpal as believable as he can. Meanwhile veteran character actor Ramesh Deo shows up (in a highly melodramatic role), Warsi is earnest to a fault, and the presence of Sanjay Mishra only makes this appear like a weak Office Office episode, one without Pankaj Kapoor.
Head and shoulders above everyone else, though, sits Saurabh Shukla, a flatulent self-serving judge who starts off grouchy and then reveals himself to be impressively no-nonsense. Shukla plays off the film's leads superbly, and improvises so well that even when he quotes someone, his version sounds funnier. (Warsi uses the tired line threatening to slap Boman under the ear; Shukla, repeating it to scold Warsi, adds a bit about how Irani's children will grow up deaf.)

It's a great performance, particularly when he sits up and allows things to happen largely because he's licking his chops with curiosity.
I just wish the film wasn't as convenient, though. As soon as Jolly changes heart (and, indeed, name) we can see this film heading towards a sincere good-beats-evil battle, and the way in which he comes across witnesses and evidence is just farcically easy.

Not for Kapoor the drama of Damini or a few good epiphanies, but instead a comedy with a heavy moral-science jhola across its shoulder, a stand-up comic given a stool.
And, as mentioned, there is so much evidence in favour of going for broke with a satirical, smart comedy instead of this background-score heavy dud.

Especially, as we look at the film, in its throwaway detail: in lawyers locking up typewriters as if they were stray bicycles, in a Taj Mahal paperweight, in lawyers who can't spell "affidavit" and -- in perhaps the film's funniest bit of plot -- a decrepit, wheezing bodyguard.
Clearly, Kapoor can bring the humour (though someone else should write dialogue.) But alas, preachiness and the need to flaunt the film's sincerity and heart, gets in the way of a good time.
Where's my gavel again?

Rediff Rating: