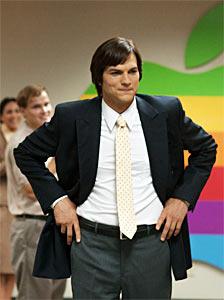 Jobs fails to meet expectations, writes Paloma Sharma.

Jobs' director Joshua Michael Stern has perhaps been handed a raw deal because audiences had high expectations from his film, merely due to the legend he chose to chronicle.
One of the most-awaited releases of 2013, Jobs attempts to document the life and times of the late IT revolutionary but what it delivers is rather different.

Starring Ashton Kutcher in the title role with Josh Gad as Steve Woznaik, Jobs pushes itself to burn as bright as it possibly can until, eventually, it fizzles out.
The film opens in 2001 with Steve Jobs walking into an Apple Town Hall meet to introduce the iPod to the world.

The film then goes back to 1974 when Jobs lived at Reed College as a dropout and attended whatever class caught his interest. It then shifts yet again to another time, another place with new characters that nobody cares to introduce to the audience. The first forty minutes of the film are more or less incomprehensible.
However, Stern does manage to steer the film back to what, one can only assume, was the original track.
After some head scratching and a whole lot of guess work, the audience finds Steve Jobs, Steve Woznaik, Daniel Kottke (Lucas Haas), Rod Holt (Ron Eldard), Bill Fernandez (Victor Rasuk), Bill Atkinson (Nelson Franklin) and Chris Espinosa (Eddie Hassell) in Jobs' parents' garage, engineering the first Apple computer ever.
It is at this point that Jobs stops being less about Jobs himself and more about Apple Inc. While the power struggle between the board and Jobs makes for an interesting story, it does not make up the whole story. Somewhere along the line, the film breaks down, eliminating all traces of Steve Jobs, the man, as it purposefully marches on with its narrow view of Steve Jobs, the CEO.
When Jobs opens, it almost seems like actual footage has been used until Kutcher's face is revealed. Kutcher, also known as Kelso to most of us, accomplishes the most basic yet the most difficult of all tasks asked of him – he makes you forget that Ashton Kutcher exists.
There is instead Steven Paul Jobs, with his enigmatic smile, his hunched shoulders, his loping walk and the way his hands move in intricate gestures. Jobs has been made into a teenage girl's fantasy instead of portraying him as he was -- scruffy and bony and not your average Hollywood hottie.
Despite the acuteness with which Kutcher picked up Jobs' mannerisms, seasoned actors like J K Simmons and James Woods have been completely wasted in this film, as were several classic rock hits like Cat Stevens' Peace Train and Bob Dylan's Simon and Garfunkel's Scarborough Fair, to name a few.
Jobs has the opportunity to examine one of the most interesting lives in history. But it chooses to throw that away. It chooses not to explore different aspects of Steve Jobs' life, instead sticking to safe ground and portraying Jobs as a controlling, psychotic perfectionist who achieves his ends by whatever means necessary.
There are tangents that shoot off here and there but not everything is explained. Jobs' co-workers are eliminated from the script as soon as possible and Apple is made to seem like it was built upon the vision and the hard work of one single man.
The film hardly provides any insight into Steve Jobs' personal relationships or what he goes through after being ousted from Apple.

It misses the little things that Jobs was notoriously careful about. But one can overlook that. One can even overlook the factual incorrectness of it all. What cannot be overlooked, however, is that the 2 hour, 10 minute long feature is a dead bore.
There is no mystery, no charm for the viewer. It simply tells its side of the story so hurriedly that one cannot help but suspect that the film was released as soon as possible in order to cash in on the Steve Jobs fever that still hasn't died down, despite the entrepreneur's demise in 2011.
Perhaps Joshua Michael Stern really does deserve the benefit of doubt when it comes to his film crossing the blurred lines between biopic and fictionalised drama but it is difficult to give that to him because it offers nothing to compensate for its shortcomings.

Not only that, the film also conveniently overlooks the details of Steve Jobs' life and miserably fails to represent him as a complete person. Had he still been around, Jobs certainly wouldn't have approved of Jobs.

Rediff Rating: