You will be exposed to much comedy, emotion and drama during the course of the show, but you will see only a jhalak of the dance, writes Paloma Sharma.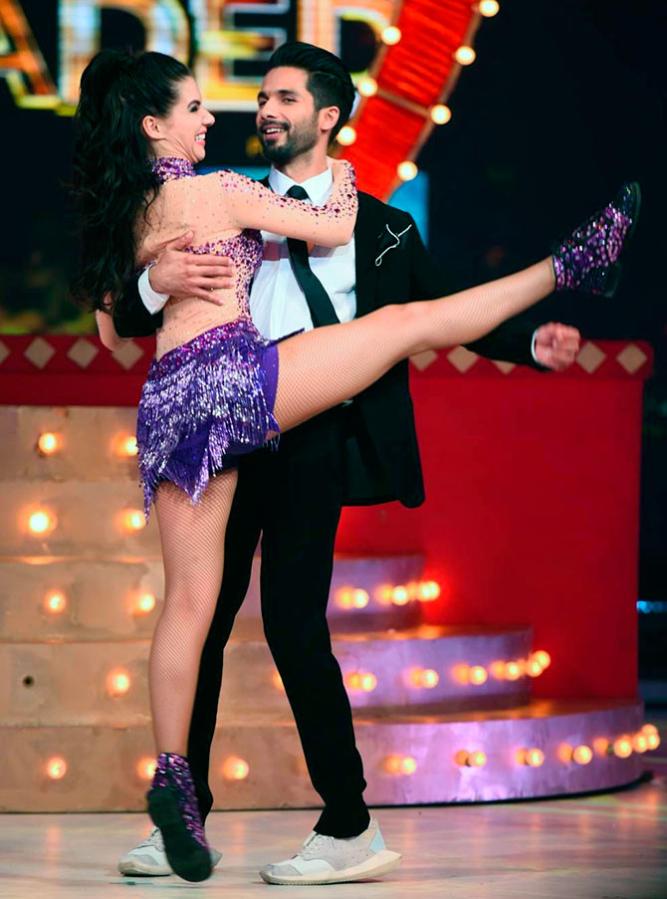 Image: Shahid Kapoor and Scarlett Wilson
Jhalak Dikhhla Jaa returns for its eight season with promises of being even more entertaining, as the 'Reloaded' in its title would indicate.
Based on BBC's Strictly Come Dancing, Jhalak Dikhhla Jaa Reloaded features Sanaya Irani, Kavita Kaushik, Radhika Madan, Scarlet Wilson, Deepika Samson , Mohit Malik, Aashish Chaudhary, Faisal Khan, Raftaar, Vivian Dsena, Shamita Shetty (who already seems to be a favourite) and Subhreet Kaur Ghumman.
Along with new contestants, the show also has a new panel of judges.
Newlywed Shahid Kapoor replaces Madhuri Dixit as one of the judges. Although change is usually difficult to adjust to, Kapoor is at his charming best and gets along with fellow judge, Karan Johar (who is always in Koffee mode), like a house on fire.
Also added to the mix are choreographer Ganesh Hegde, and dancer-turned-actress Lauren Gottlieb. Both have the title of dance guru conferred upon them, although one is still trying to figure out how this position is different from being a judge.
One should probably mention at this point that Manish Paul plays host but judging by the frequency with which he is found on various stages across various reality shows on various TV channels, his presence is taken more as a fact of life than anything else. However, this does not mean that he's lost touch with his art. Quite the opposite, really. Paul retains his wit and his comic timing only gets better.
Despite its several positive points, as far as the core of Jhalak Dikhhla Jaa Reloaded is concerned, it is hollow. It is ironic that for a show based on dance, most of the entertaining is done by Kapoor and Paul.
What counts as dance on Jhalak is usually counted as acrobatics in most other places. The moves are difficult, no doubt, but an overuse of lifts, cartwheels and special effects leaves you yawning and waiting for the focus to shift to the host and the judges again.
Choreographers and contestants seem more interested in contorting themselves into difficult positions than in graceful movements and song selection.
As Hegde clearly pointed out on Sunday, songs that match a contestants personality will help them do better. Item numbers and the like aren't meant for everyone, all the time. This, however, didn't stop anyone from turning up the heat with skimpy costumes, raunchy movements and having sand/water poured on them -- all of which wasn't always necessary.
The ratings for almost all the acts remained at a minimum of eight marks out of 10, per judge, which was funny because the contestants seemed mechanical and pained.
What's funnier still is that Kapoor and Johar went on to call Jhalak Dikhhla Jaa Reloaded a family show. It certainly is not. As entertaining as it is, the dance show is best suited for appropriate audiences.
The best part of Jhalak, however, is the new segment they've introduced this season. The show now gives a platform to a non-celebrity dance enthusiast every week to express their talent.
Last night, this opportunity was given to Raj, a Chinese food vendor from Vadodara and among all the stars who sat there, it was Raj who shone the brightest.
Focusing more on gimmickry than dance, Jhalak Dikhhla Jaa Reloaded has chosen it's title wise -- you will be exposed to much comedy, emotion and drama during the course of the show, but you will see only a jhalak of the dance.
Rediff Rating: