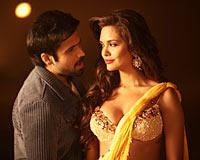 Jannat 2 is an uninspired script and lacks everything Jannat had going for it, writes Raja Sen.


Webster's dictionary defines a sequel as… oh, who am I kidding. You and I both know what a sequel is, but this is elementary knowledge the bigwigs at Vishesh Films might currently require. Because there is absolutely no rationale behind naming their new movie
Jannat 2
, the film having nothing whatsoever to do with the 2008 film or any of its characters. It shares a director and a leading man, yes, but by that logic next week's Hollywood release would be called
Tim&Johnny Part-11
instead of
Dark Shadows
.
It's a bit of a shame because -- hold your breath, do -- I'd actually
kinda liked
the first
Jannat
. Sure, it was a cheesy Hollywood knockoff that tried to plug plot-holes by clumsily forcing in real-life cricketing allusions, but the film itself was competent and watchable, helped on its way by good songs, a pretty (and pretty earnest) girl and, more than anything else, a hero in surprisingly fine nick: three things Kunal Deshmukh's 'sequel' lacks entirely.
Emraan Hashmi never quite has trouble selling himself as a rascal, but here, burdened by tremendously tacky dialogue and an exaggeratedly thick North Indian accent to justify the film's Delhi backdrop, he's completely at sea. Initially appearing passable enough -- except for his painfully written out voiceover sections, of which there are many -- Hashmi himself seems to lose interest by the time the interval comes around. More than half the film creaks by with the
leading man visibly too disinterested to care, but with material this uninspired one can't quite blame him for phoning it in.
The story of a gun-seller who is coerced by a harsh cop to become a police informer, this is an oddly uninteresting film predictable right from the moment the main characters are introduced, each more asinine than the next. Hashmi's Sonu Dilli is an insipid fellow who keeps crowing about how the world calls him a dog, Esha Gupta plays a doctor who apparently runs a free 'hospital' without knowing how to pay the bills, and Randeep Hooda -- god bless his soul -- keeps a straight face even while playing a whiskey-loving cop bitterly waging war on gunrunners because his wife was shot. Yes, that's right.
Who shot her and why seems less significant to this scowling loose cannon, and I suppose we can only be glad she didn't, say, slip down the stairs, leading Hooda to wage war against duplex apartments and highrise buildings. (Then again, perhaps she could die of cancer, a film culminating in our mad lieutenant grabbing the disease by the collar and breaking its kneecaps -- a movie I'd pay for tomorrow.)
A lot would have been forgiven -- as it often is with these producers -- if the film had either a meatier plot or a more gripping narrative, but this one's just tiresome as the obvious story drags on. A couple of chase sequences, particularly one through the arteries of a Dargah, are slickly shot, but even these lose their charm as they get needlessly long-winded. And finally, telling a bad actress she looks like Angelina Jolie is just cruel -- to both her and to the audience forced to sit there while she tries to smile coyly through a silly pout.
Rediff Rating: