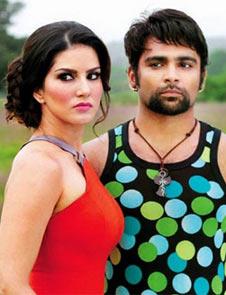 Jackpot is a very confused film, feels Paloma Sharma.

Kaizad Gustad is back with Jackpot after his last film, Boom.

Yes, that Boom.

Much like Boom (I shudder every time I say it), Jackpot too stars a creepy old rich man and a young cunning seductress.

Only this time, he does you the courtesy of adding a creepy young-ish guy and his 'lukkha' friends -- just to keep it original, you know?

Doublechin Joshi... I mean, Sachiin Joshi... stars as Francis, the leader of a group of conmen. He and his friends plan to con a casino owner -- who goes by the name of Boss (Naseeruddin Shah) -- with the help of Boss's secretary/girlfriend/casino manager/squeeze Maya (Sunny Leone).

But Boss has bigger plans for them and when things go downhill, loyalties shift.

Or at least I think that's what it was about.

Since Gustad uses extremely complicated storytelling techniques like non-linear narratives and hot girl breasts to distract you when things get too confusing, I decided to look take a man's perspective as well.

18-year-old theatre actor Arnav Thakker shares his views on the film, in a conversation with me:

He says: I don't think that even Kaizad Gustad knew what he was trying to say through the film.

She says: I honestly think he was trying to say, "Money, boobs, money, boobs, money, boobs."

He says: Boobs? Yeah, both male and female.

She says: Well, Joshi really did give Sunny Leone tough competition.

He says: (laughs) I don't know why he was in the film. (pauses) Didn't his wife produce the film?
She says: Forget that, why did Naseeruddin Shah even sign it?
He says: Money, boobs, money, boobs, money, boobs? Or maybe the head-mop he got to wear?
She says: Was that a mop? I thought it was a dead octopus.
He says: No, no. The octopus was Sunny Leone.
She says: (shocked) I honestly thought you liked her. I mean, all the guys are crazy about her.
He says: (blushing) Well... She's okay.
She says: And what about that scene where she strips down to her lingerie?

He says: Been there, done that -- the Internet way.
She says: So what if she's a porn star?
He says: I know people have judged her before she even started. But I have an issue that she doesn't even try.
She says: Fair enough. But the lead pair seemed to be trying too hard in that song, Kabhi Jo Badal Barse. It was such a nice song until the two of them walked into the frame.
He says: People were actually whistling at the end because it finally ended.
She says: It wasn't that bad. At least Makrand Deshpande played an extremely entertaining Goan Inspector Clouseau.
He says: (exclaims) Quarter of a star for Makrand Deshpande!
I was quite surprised to find that the Sunny Leone factor did not work even for the male half of the audience (and I'm secretly glad about it).
But I personally feel that we're coming down to hard on Sunny. It was Sachiin Joshi who was the real star of the film.
He's proved that he doesn't even need acting lessons -- because they won't change a thing.
Only go for Jackpot if you sat right until the end of the titles of Ram Gopal Varma Ki Aag and yelled encore.

Rediff Rating: