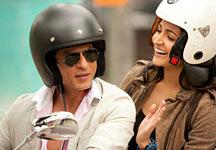 Aseem Chhabra who reviewed Jab Tak Hai Jaan in New York says, "The film belongs to Shah Rukh Khan who is charming and mischievous, displaying his dimples with each smile. And he is even more watchable when he is bitter and heartbroken."
There is a reality, as we know it, our mundane daily lives peppered with some joys. There is good cinema with its play on the reality as we know it. And we accept those stories, as unique commentaries on the state of our lives.
And then there is an alternate reality of Bollywood, where couples fall in love, with loud souring soundtracks in foreign locations, but fate keeps them apart and they make unreasonable promises and sacrifices to save their loved ones. The late Yash Chopra excelled in presenting us with that unreal reality, where human beings were principled people, essentially good souls, and for them love was everything. And they would give up all for that love, make sacrifices that made the audience tear up. 
Chopra's swan song Jab Tak Hai Jaan plays in that arena, even though it is a relatively weak example of that alternate reality. But all his romantic musicals - films like Daag, Kabhi Kabhie, Chandini and Veer Zaara suffered with that same liberal dose of optimism, a reflection of unreal life, made to look appealing by good looking actors, songs, and a lot of tears and melodrama. Today those films remind us of our youth, when we got odd lessons of romance from songs like Kabhi Kabhie Mere Dil Mein, Mere Dil Mein Aaj Kya Hai, Janam Dekh Lo Mit Gayee Dooriyan. We are kind to those films, call them classics, although none of those films were really landmark cinema.
Jab Tak Hai Jaan has flaws – a long convoluted plot, that takes its time to unfold, with implausible twists, and characters whose motivations and behaviors can only be justified if we believe in the statement: This is Yash Chopra's brand of cinema. 
A singer, a waiter (Shah Rukh Khan) who barely knows English, becomes a major in the Indian army and an expert at defusing bombs. He has not one, but two road accidents, loses his memory in the second. And then a doctor in England, suggests to Khan's character's former lover to pretend to be married to him. Such medical treatment does not exist anywhere in the world, unless the doctor is a graduate of the unreal Yash Chopra School of Medicine.
Hindi cinema has changed a lot in the recent years. Just this year we have seen exciting complicated narratives in films ranging from Gangs of Wasseypur, Kahani and Shanghai. But even until his last film, Chopra held on to his faith in the old fashioned way of telling stories.  Fans of Bollywood have always been kind to Chopra's films. I would not be surprised that five-ten years from now JTHJ will be considered a minor classic each time we listen to or sing Challa or Saans!
In the three hour span JTHJ takes us first to Ladakh, then London, back to Kashmir, London and again Kashmir. There is no ugliness in this unreal alternate world of Chopra, no unpleasant sites, no complicated negative characters. Everything in JTHJ is clean and pleasant to the eyes.
The three lead cast members are all attractive looking and they glow under the watchful eye of Chopra and his ace cinematographer Anil Mehta. They dress nicely, and try to act well, although with varying degrees of success.
Among the two lead women in the film – Anushka Sharma brings a spirited side to her performance. Her character may get a tad bit over-excited and sometimes annoying, but she is never boring. Katrina Kaif looks pretty, very attractive. But while she may have tried hard (including in her other recent films), she remains a limited actress.
Khan, is at his romantic best, but there are never any significant sparks between his and Kaif's characters, despite two kissing scenes. Alas we have to believe in this love, otherwise all of JTHJ can fall apart.
JTHJ is essentially Khan's film.  Freed of the burden of wanting to be video game character or an international gangster, Chopra allows him to be just Shah Rukh Khan, the regular movie star who still has the magic in him. He is charming and mischievous, displaying his dimples with each smile. And he is even more watchable when he is bitter and heartbroken.
There are age issues, where the film first makes Khan appear to be in his mid-20s and then in his late 30s. But in the second half of the film the 47-year-old actor carries his age very well. With his stubble, aviator glasses, leather jacket, and motorcycle, Khan struts around with uber confidence.
JTHJ never gets tedious or dull. And that says a lot for an imperfect Bollywood film.
Rediff Rating:

Also Read: Jab Tak Hai Jaan is all about Shah Rukh Khan