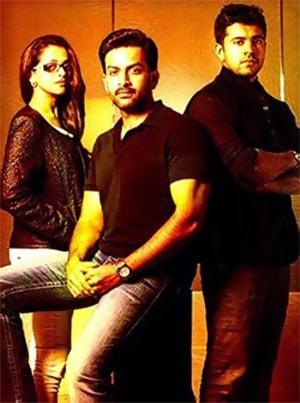 Ivide tries to tackle a lot of things but ends up satisfying none, says Paresh C Palicha.
The scope of a police story in Malayalam cinema was very limited until a few years back.
Prithviraj, the young actor tried to break the mould of the conventional cop in the film Mumbai Police (2013), where he had to work hard to hide the vulnerable side of a super cop.
Now, he tries to be a 'next gen' cop in Ivide, helmed by the National Award winning director, Shyamaprasad. Here he plays an investigating officer in the police force of Atlanta city in USA.
Adopted as a child by an American couple from an orphanage in Kerala, he is divorced and has a daughter. He has visitation rights to see her.
He is a complicated character, who is finding it difficult to cope with the separation from his wife and child.
His relationship with his adoptive parents is not ideal either. He is seeing a small time TV reporter who accuses him of using her as a stopgap arrangement to cope with his broken marriage.
At the other end is Krish (Nivin Paul), who manages the American business of an Indian IT company named Infotech. Its main function is to provide BPO services to the American companies which is stealing local jobs and exporting them to India. Krish, who is a ruthless go-getter, has to be diplomatic about the action he takes in this part of the world.
Then there is Roshini Mathew (Bhavana), a new recruit in Infotech, and Krish's classmates in school. To complicate matters even more, she happens to be Varun's ex-wife.
Add a slew of murders that appear to be racist in nature to the story of the main trio and you have a heady concoction that promises to have high voltage drama. A couple of victims are highly ranked IT professionals known to Krish, which makes the situation more volatile for the threesome.
Ajayan Venugopalan, the scriptwriter, does a good job of etching out three individual characters with their unique traits and back stories but somehow fails to put them together and fit them into the bigger picture.
The serial killer track and overt references to the erosion of jobs in the US due to the thriving BPO industry in India jar and sound dated. And, it baffles us why the IT company owner is named Murthy (played by Prakash Bare) and the owners are portrayed as lechers.
It seems easy for Prithviraj to play a person in his mid thirties and already facing a mid-life crisis of sorts with greying beard and hair. At the same time we find Nivin Pauly struggling to do the same. The best he can do is gnash his teeth and sneer when in foul mood.
Bhavana seems to be doing a balancing act between the two male actors and her performance is average at best.
Ivide ends up as just an average film trying to tackle a lot of things but ends up satisfying none.
Rediff Rating: