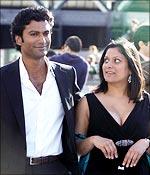 It's quite fitting that a batch of marijuana-laced pakoras drives the plot of Gurinda Chadha's It's a Wonderful Afterlife.
Because, like ganja pakoras, It's a Wonderful Afterlife is surreal and bizarre, at times funny, frequently stupid and lazy, but still fundamentally a crispy, crunchy desi snack.
And while it may be a bit tasty and fun, in a guilty sort of way, you know too much is bad for you, and overall you'll be left feeling silly and a little sick to the stomach.
For starters, the film quickly drifts into the absurd and unbelievable, and stays there throughout, with a plot riddled with inconsistencies and gaps that otherwise would be fatal if Chadha hadn't set out to be so self-mocking.
In a way, It's a Wonderful Afterlife seems like Chadha's way of poking fun at the seriousness of the Indian diaspora, herself included. Her films Bride and Prejudice and Bend it like Beckham, which seriously explore issues of identity and culture clash, have become part of the canon of overseas desi cinema, a kind of rubric for understanding British Indians.
Here, the director sets out to simultaneously highlight and destroy the very stereotypes she's helped cement. "Yes, arranged marriages and family politics are big in South Asian communities," she's saying. "But what happens when they cause a string of ghastly murders?"
Unfortunately, if Chadha had goals beyond meagre satire and a few chuckles, she failed to reach them. All she's really left with is muddled implausibility.
Shabana Azmi is Mrs Sethi, a British Indian widow worried about the fate of her two children -- daughter Roopi (Goldy Notay) and son Jazz (Ray Panthaki).
While Jazz is young and carefree, happy with his music, Mrs Sethi senses a deep unhappiness in her dutiful daughter Roopie. She is kind, intelligent and sincere, but has a problem with food, and buries her unhappiness under a mound of fried snacks and candy bars, all the while gaining weight.
An early engagement was broken off by the groom-to-be, when whispers in the community that the girl was 'fat' and 'unsuitable' got to be too much, and now marriage for Roopi seems a distant possibility.
Mrs Sethi exacts her revenge on the desi gossipmongers, and kills four of them with -- get this -- curry, chapatis, kebabs and koftas. Absurd, see?
But the spirits of the victims come back to haunt the old lady, and won't give her peace until their souls are released into the afterlife. Only Mrs Sethi can see these apparitions, leading to some rather humourous scenes, the finest in the movie, strengthened by Shabana's fine acting.
Police officer Raj Murphy (Sendhil Ramamurthy), who also happens to be a family friend of the Sethis, is called in to investigate. He must balance his professional duties with his rekindled friendship with Roopi, with whom he was friends in childhood.
The plot staggers ahead lazily from there, culminating in a clumsy, over-the-top climax, proving that, ultimately, the third time around is most definitely not a charm for Chadha. But at least with this film the talented director can distance herself from the narrowness of her earlier material and turn her poignant director's eye to something entirely new.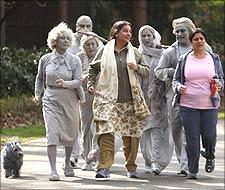 That's not to say the film is without good points. Goldy Notay and Shabana share a relatively touching mother-daughter relationship, and Notay plays the soon-to-be spinster role quite adeptly.
Linda aka Geetali (Sally Hawkins), a desi-obsessed English girl, returns from a six-week trip to India with an Indian fiance, and learns to channel some of the 'Eastern Spiritualism' she picked up from her guru. The character's a bit shrill, but provides for a few cheap laughs.
The gang of spirits following Mrs Sethi quite nicely epitomises the chattering elements of the overseas desi community: self-interested, harshly critical and back-biting, with their own secrets to hide.
Finally, the overall effort to lightly poke fun at the Indian diaspora is amusing and appreciated after so many self-important and overwrought works on the subject.
But the film's bad moments outweigh the good.
The blossoming love between Roopi and Raj is unconvincing and frankly cringe-worthy. Ramamurthy definitely has a presence on-screen, but his rigid character -- a good cop with a soft heart -- allows little room for the exceptional.
There's an agonising 'reference' to horror classic Carrie that's amusing for two seconds, but quickly turns annoying and dumb. Comedy actor Sanjeev Bhaskar, one of the ghosts, is quite disinterested and disappointing.
A police officer is brazenly murdered in broad day-light and no one seems to notice or care to follow up, only one example of the ridiculous 'police investigation' angle, which is nothing more than a waste of time.
And so on. That's not mentioning the slapdash and contrived feel-good ending.
Perhaps there is a difference, then, between It's a Wonderful Afterlife and the aforementioned ganja pakoras. Unlike the munchy-inducing pot-tinged snack, this fried fritter definitely won't leave you hungry for more.
Rediff Rating: