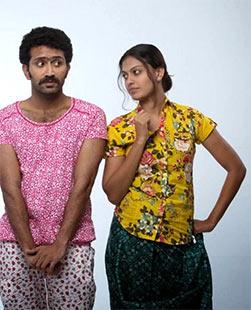 The storyline sounds simple and thin but the way it is presented makes Ithihasa worth watching, says Paresh C Palicha.
Debutant director Binu S tries a gender bender theme in his film Ithihasa. Shine Tom Chacko and Anusree are in the lead.
Alvi (Shine Tom Chacko) is a pickpocket and works in partnership with his friend Vikku (Balu Varghese).
Janaki (Anusree) is an IT professional staying in a flat with two female colleagues. One morning Janaki finds herself in a male body and Alvi has acquired a female body.
A flurry of hilarious events follows, and by the end of the first half, the two discover each other. Then they fall in love after fighting initially.
The storyline sounds simple and thin but the way it is presented makes it worth watching.
How slender Anusree transforms into macho Alvi (a conventional hero capable of taking on half-a-dozen thugs single-handed) and how the rough and tough Shine becomes the coy Janaki with a smartly trimmed stubble, is a sight to behold.
The humour is not cheap or vulgar; it remains within the bounds of decency. Even in situations where it has the potential of being sexist, it is controlled very well by the director.
A bit more thought could have been given to the climax. Another grouse is that the film doesn't delve into gender issues in any depth or show the awakening in the characters after they have gone through a life-changing experience.
The actors have given good performances -- both the lead pair and the supporting cast.
Balu Varghese is present in almost every frame and has made good use of the opportunity given to him. Sunil Sukhada as the police officer makes his presence felt in a small role.
Shine has been showing his talent as a supporting actor in films such as Annayum Rasoolum and Chapters. Here he shines as the hero who ironically is the heroine for most part of the film.
Anusree who has to be the foul-mouthed and street-smart Alvi is the surprise package of this film.
Ithihasa is an enjoyable experience.
Rediff Rating: