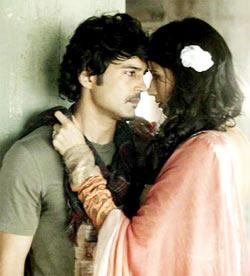 Ishk Actually is one of the drabbest films I've seen all year, writes Sukanya Verma.
E
very film, even the silliest ones, need to begin with the promise of either intent or content. But to drift on and on and on (and on), ceaselessly, stubbornly, is bewildering beyond words.
Ishk Actually
begins with a guy (Rajeev Khandelwal) standing at the brink of a mountain top spewing some romantic
gyaan
followed by a woman (Neha Ahuja) wincing at anyone, who bothers to wish her on her birthday.
The haughty lady immediately slips into flashback mode with a mushy song against scenic views serenaded by a second guy (Rayo Bakhirta). Soon enough, she bumps into the first guy with whom she apparently enjoyed a one-night stand making things awkward and secretive.
And that's the beginning of a series of convoluted flashbacks, which jump from Mumbai to Thailand to Goa to Ooty leaving the viewer completely lost and confounded. It takes some more scalp scratching before we learn that Guy A is her fiancé and Guy B is their wedding planner (even if all his scenes are spent on a bar stool).
Who will she pick is what I pay 140 bucks to find out.
Only Anish Khanna's utterly warped, affected direction isn't going for the rom-com treatment. He chooses to render every scene with needless mystery and a stilted ambiance of lifeless, postured passion aiming for credibility by playing against a rip-off of Yumeji's theme (
In the Mood for Love
) resulting in unintended comedy every few minutes.
Pretty visuals and
a mellow soundtrack are just about the only tolerable aspects of this amateurishly directed feature.
Notably, not a single character talks normally in Ishk Actually. All its alleged sentiments are implied ambiguously through bad poetry or riddling confessions. Khanna's faux intensity aided by lingering, brooding shots of its protagonists staring into space is agonisingly pretentious and further discredited by a cast that's too blah to play along.
While Neha Ahuja sticks to one expression -- blank -- and one movement -- answering her phone -- Rayo Bakhirta is understandably spaced out, especially when his co-star (and Thai pop singer) Ann Mitchai speaks in the most terribly accented Hindi since Meenamma. Even the sturdy Rajeev Khandewal fumbles under the futility of a role that reduces him to a scarf and hat modelling bar prop.
Mostly though it's the sheer senselessness of writer Arindam Mukherjee's absurd script that boggles the mind.
One minute, the heroine's all over Guy A.
In another, she's undressing for Guy B.
And then, no kidding, she changes her mind yet again.
The girl has more changes of heart than an ongoing cricket match's scoreboard.
Another amusing observation, every single time our girl runs out of things to say, she wiggles out of the situation by asking the guy to take her home.
Obtuse, dispassionate and inert, Ishk Actually is one of the drabbest films I've seen all year.
Rediff Rating: