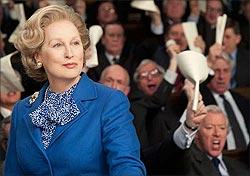 The Iron Lady is much too lethargic to create the complexity of Margaret Thatcher's supremacy or match the aura of Meryl Streep's ambitions, writes Sukanya Verma.
It was in a Linda Goodman book that I first read the phrase 'iron fist in a velvet glove.' It was applied to describe the Libra woman.
Margaret Thatcher, the first and thus far only lady Prime Minister of United Kingdom, earned the popular title of 'Iron lady' because of her hard-boiled political ideals based on which she ran the nation for 11 long years. It just so happens, Thatcher, born on October 13, is a Libran too.

Zodiac signs, of course, have very little to do with Phyllida Lloyd's biopic woven around her remarkable rise, reign and eventual decline. But, for all its supposed showcase of historicity, The Iron Lady resigns itself to be a flimsy instance in contrived filmmaking with, ironic as it is, absolutely no mind of its own.

If you are like me, whose childhood impressions of Thatcher are limited to her gleaming pearl strings and sharp dressing, this film doesn't do much to alter that. Even if one is completely clueless about Thatcher's significant authority and unrelenting- to-the-point-of-contentious strategy dominating British politics all through the 1980s, her charisma on the global scene and how her controversial decisions (abolish free milk in schools, Falklands war, Miner's strike, poll tax) led to her inevitable unpopularity, there is much lacking in the cautious, embarrassingly cursory approach with which Llyod and writer Abi Morgan choose to tell a living, controversial figure's story.

Lest Lloyd's intention is to let us into Thatcher's, now 86 and a frail version of her former self, personal facet -- her clearly strained relationships with her children (Mark who's in South Africa and Carol who uncomplainingly attends to her overbearing mother), her friction with her male colleagues or her self-centred albeit warm camaraderie with her voluntarily sidelined husband (Jim Broadbent) -- it comes through in tiny morsels.  

Her interactions with Broadbent bring back memories of Richard Eyre's Iris, based on John Bayley's memoirs of him and novelist wife, Iris Murdoch. Broadbent, who in an Oscar-winning turn played Bayley, lends Thatcher's significant other a similar texture of benevolence and serenity. He's also spotted parading a pink turban on a couple of occasions, the same one he was decorated with while accompanying the famous missus during a diplomatic visit to India in 1981, under then Prime Minister Indira Gandhi's hospitality.

Llyod employs a back and forth narrative, travelling from Thatcher's present-day ailing octogenarian, regularly visited by her deceased husband's chatty spirit (whether it is her refusal to let go of the most stable aspect of her life or a romanticised account of a medical condition is left open for interpretation) to her from a grocer's daughter (portrayed by a feeble Alexandra Roach) progression in Grantham to an Oxford Graduate and subsequently Leader of the Conservative Party.

Here, Lloyd and Morgan had the perfect opportunity to expound on the inspiration and foundation of their dynamic heroine trying to breakthrough in a men's world. Instead, they embrace the Pretty Woman theory of prioritising glamour over gravity and Thatcher gets her makeover -- off with the dowdy hat, clean cut, classy wardrobe, a perfectly perked up hairdo and a new confident pitch in her previously ridiculed screechy voice.
If Thatcher is conscious of such criticism, she doesn't show. Rather she retorts in kind with unfeeling assertion. Thoughts, not feelings, are important to her, she opines to a physician in one of the film's most gratifying moments.      

Despite its misspent potential and wishy-washy biopic fulfillment, The Iron Lady is still a very exciting proposition for no other reason except Meryl Streep. And not merely because it earned her a third Oscar more than two and a half decades after her second one (Sophie's Choice in 1983). It is, without negotiation (a Thatcher touch), a well-deserved victory and a superlative performance that serves to inspire and emulate.

There's something simply transfixing about her very being. Even when you can barely recognise her beyond that fantastically constructed prosthetics make-up (by Mark Coulier and J Roy Helland, the other two real winners of this enterprise), it is impossible not to be blown away by her perceptive, astute artistry. Incredible as she is, Streep radiates a sly albeit unyielding haughtiness as the ruling figure. Note how she gets all headmistress-y with her Deputy PM, Geoffrey Howe (Anthony Head). But credibly mellows down with sporadic shows of ideological aggression and aplomb when the story shifts to her existing stretch.

Perceptions of Thatcher may vary from person to politics but Streep succeeds in painting a genuine scenery about a pivotal figure in her nimble skin. Like she wistfully tells a dignitary's wife in one scene, 'It used to be about trying to do something. Now it's about trying to be someone.'

The Iron Lady is much too lethargic to create the complexity of Thatcher's supremacy or match the aura of Streep's ambitions but it's definitely worth a watch for all those who wished to witness a practical example of iron fist in a velvet glove.

Rediff Rating: