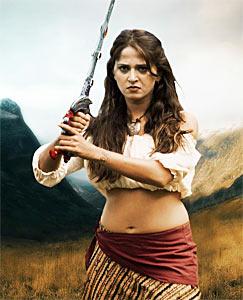 Tamil film Irandam Ulagam is a visually stunning fantasy story set in an imaginary world that describes a love that transcends human understanding of time and space writes S Saraswathi.

Be it Kadhal Kondein, 7G Rainbow Colony or Mayakkam Enna, romance has always played an integral role in director Selvaraghavan's films and he has always approached it with his own distinctive style, ignoring the time-tested formula.

With a tagline that reads 'How far will you travel for love', his latest film Irandam Ulagam, starring Arya and Anushka Shetty, has been generating a lot of buzz.

And just as the tagline suggests, the film is all about a love that transcends time and space, exploring the possibility of a parallel world.

The music too has been creating quite a sensation. Harris Jayaraj handled the initial soundtrack, while later Anirudh Ravichandar was signed to compose the film's background score. Vairamuthu has penned the lyrics.

Irandam Ulagam, which is dubbed in Telugu as Varna is produced by Param V Potluri for PVP Cinema and is also being released in other languages such as Hindi, Georgian, Russian and Turkish.

Irandam Ulagam revolves around two love stories simultaneously occurring in two parallel worlds. One is the real world we know and understand and the other is a fantastical world filled with mythical creatures, enchanting forest, mysterious hills, and majestic views of the horizon.

In the real world, Anushka plays Ramya, a doctor, who is in love with Madhu Balakrishnan (Arya), a college professor. While in the fantasy world, she plays Varna, a high spirited, warrior-like
character who deeply values her freedom. She is desperately pursued by Maruva (Arya again), who is madly in love with her.
Alternating between both worlds, the story progresses smoothly, like your average love story, until just before the interval, when the director introduces a dramatic twist.
The visual experience created by cinematographer Ramji is truly spectacular. He deserves full credit for bringing to life a beautiful new world, a magical place shrouded in mystery and filled with brilliant colours.
The music heightens the atmosphere and Anirudh has done exceptionally well. The songs, the lyrics, the picturisation as well as the vocals, everything fits beautifully.
Both Selvaraghavan and Arya are known to experiment with their films and characters and have been quite successful. In fact, 2013 has proved to be a great year for Arya, who had two back-to-back box office hits,
Raja Rani
and
Arambam
.
Anushka not only shares equal screen space with Arya, but also plays quite a significant role. In fact, the story revolves around her and she has performed admirably.
Though a lot of effort and hard work has been put in by the entire team, the result is not quite what you expect.
The film has an unreal fairytale-like quality that prevents us from feeling the intensity, passion and pain of the characters. It seems more like a child's bed-time story.
Everything from the unique costumes, make-up and body language gives the film a storybook and dream-like quality.
Irandam Ulagam
is an ambitious project by a director who always strives to give a different and unique experience to his audience.
Rediff Rating: