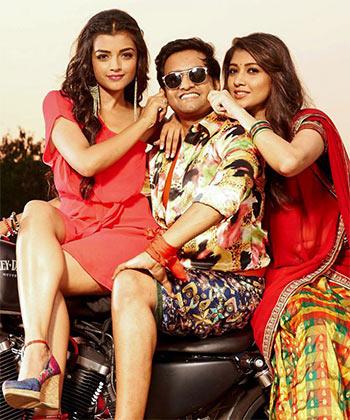 Director Muruganand's Inimey Ippadithaan is a poorly-written, uninspiring romantic comedy that revolves around a young man's quest to find the perfect bride, says S Saraswathi.
There is little to hold your interest in director Muruganand's Inimey Ippadithaan, starring popular comedy actor Santhanam.
The film revolves around one young man's quest to find the perfect bride.
The film is produced by Santhanam himself under the banner of Handmade Films and has music by Santosh Kumar Dayanidhi, a former assistant of A R Rahman.
The film opens with a 'bride seeing ceremony' and this goes on and on until the very last scene, when the hero Seenu (Santhanam) finally gets married.
Seenu is on a rejection spree. He hates all the girls suggested by his parents and decides to find a beautiful girl himself who he can fall in love with and marry.
There is a ridiculous song in which he goes around proposing to random girls on the street and all of them reject him.
He finally meets and falls in love with Maha, a college student, played by Ashna Zaveri. Maha shows no interest in Seenu.
Meanwhile, Seenu's parents find him a lovely girl, Akhila (Akhila Kishore), confident that their son will find no reason to reject her.
Making an entry at this point is the National award-winning Thambi Ramaiah, as Seenu's uncle. He further complicates the matter and Seenu finds himself engaged to Akhila. Maha now finds that she cannot live without Seenu and claims to love him.
Seenu now has two girls fighting for his affections. With the wedding day drawing closer, Seenu is running out of time. The second half is all about how he gets himself deeper into this mess.
Santhanam has certainly worked hard trying to fit into the mould of a full-fledged commercial actor.
He has trimmed down considerably and is seen in well-chosen designer outfits throughout the film, competing with his female co-stars.
Though the film is peppered with his usual witty one-liners, there seems to be a subtle effort not to appear comical in every scene. He even attempts a fight sequence, but his dancing skills leave a lot to be desired.
Both Ashna and Akhila Kishore have done their bit. But it is the delightful Thambi Ramaiah who steals the show. He effortlessly keeps the audience in splits with his odd quirks, guile and spontaneity.
The film let down by a poorly-written script and the director's lacklustre execution. The actors try to add some zest, but the film shifts lifelessly from one scene to another.
The extremely slow pace, the pretentious characters, ordinary background score, songs every 20 minutes, and a screenplay stuck on a single notion, makes director Muruganand's Inimey Ippadithaan one dimensional and monotonous.
Rediff Rating: