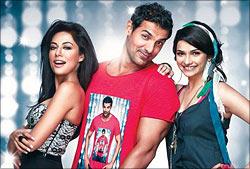 Nishi Tiwari says I Me Aur Main has its moments but falters badly with its plot.
First-time director Kapil Sharma's I Me Aur Main depicts everything that's wrong with Indian patriarchal society. It also represents, on some levels, everything that's wrong with most stories in Hindi films.

As the title suggests, the film revolves around Ishan Sabharwal (John Abraham), a man-child who all the women in his life dote on.

He's spoilt no end by his mother (Zarina Wahab). His elder sister (and more sensible of the two), Shivani (Mini Mathur) silently disapproves of the preferential treatment meted out to him ever since they were kids and is generally dismayed by his refusal to grow up.

An executive who scouts for new talent for a music company, Ishan lives with his girlfriend Anushka (Chitrangada Singh) in her plush apartment where she does all the chores, pays all the bills – when the milkman arrives at their doorstep one morning with the monthly bill, Ishan refuses to pay because he 'doesn't even drink milk, even his morning coffee is black' – and routinely cleans up after him.

If that's not enough, Ishan, acutely aware of his good looks and the effect he has on women, is an incorrigible flirt.

For reasons best known to the director, Anushka, an extremely attractive, successful and independent career woman, puts up with all this and even hopes to marry the guy some day because, as she wistfully sighs to her friend, she loves him.

Soon after, though, she realises that things aren't going to change and unceremoniously dumps Ishan.

Ishan, largely unfazed by this setback in his love-life, moves into a more modest flat where he meets his new neighbour Gauri (Prachi Desai), a bubbly stylist.

As seems inevitable at this point, they fall in love and quite inexplicably, Ishan is a changed man.


I Me Aur Main's runtime of 108 minutes is probably the best thing about the film. But then, there's also three gorgeous people wearing the best of clothes, Mini Mathur in a delightful and fairly impressive turn, and Zarina Wahab as the overindulgent, criminally naive but lovable mother.


The plot, though, leaves a lot to be desired. While the first half of the film establishes the premise effectively and at a brisk pace, the second half meanders.

The story loses its sense of direction – surely not all women are naive in their dealings with a man-child – and rushes to the end because all stories must have a crowd-pleasing ending in the appropriated run-time.

Prachi Desai as Gauri tries a little too hard to be that bubbly girl-next-door who has all the answers. She dresses the part, mildly gesticulates like any hip urban girl and laughs a little too much.
Another thing that strikes as rather odd is the dynamics of the relationship between her and Ishan.

She's the passive-aggressive mother he needed as a kid to put him in his place. But she comes across as so harmless as she does it, that you somehow aren't fully convinced with her even though you approve of her methods.
John smirks and frowns through his performance, unsure of how to play a man who's hopelessly in love with himself.


And while Chitrangada doesn't really overdo anything, in some intense scenes her voice displays more emotional range than her face.


I Me Aur Main falters with its plot, does a mild disservice to the ladies and is unreasonably forgiving of its protagonist. If you can get past that, it's a film you wouldn't mind watching once.
Rediff Review: