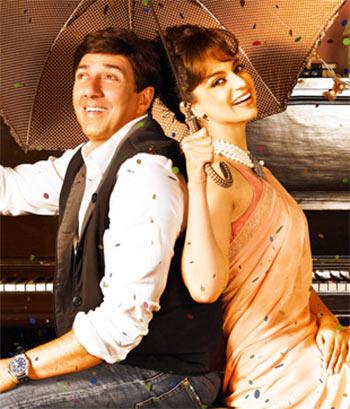 I Love NY is criminally unremarkable, says Nishi Tiwari.
I Love NY opens with Sunny Deol's (protagonist Randhir Singh) voiceover over snapshots of Chicago, who describes the city he resides in as mechanical, unimaginatively designed, mundane.
Ironically, he does so in a manner that is passive aggressive in the sense that it conveys a secret pride in his internalised Indian-Americanism more than the intended weariness.
One can blame it on Deol's famously blasé dialogue delivery -- remember how even a 'Balwant Rai Ke Kutton' or 'Tareekh Pe Tareekh' had an absurdly lyrical quality to it? -- or on a horribly misguided brief from the director.
That pretty much sums up this Deol and Kangana Ranaut starrer that was stuck in the cans for the longest time and owes its release to its female lead's sudden ascent in Bollywood fueled by the recent spate of box office and critical hits.
Randhir Singh is a middle-aged commitment-phobe residing in Chicago with his feisty Punjabi dad (played by Prem Chopra with such refreshingly natural verve, he makes Deol look like a potato).
It's New Year's Eve and Randhir has decided to make key changes in his life to make it less drab and mechanical -- the most prominent of them being proposing to girlfriend Riya (Tanishttha Chatterjee), who he doesn't even seem to be in love with.
Things seemingly take a turn for the worse when Randhir heads to the local health club to meet his buddies (it's an annual New Year's Eve tradition which is a whole new level of weird).
He lets the news about his impending nuptials slip, they have one celebratory drink too many and in their drunken stupor, the group pack Randhir off to New York on a plane instead of the friend who was actually meant to go.
To sum it up, Randhir ends up at Tikku's (Kangana Ranaut) place in New York and things just get weirder thereon.
Deol looks suitably ill-at-ease in a rom-com setting. He doesn't know what to do with his hands for the most part, his mostly incredulous expressions and tone belie the sugary dialogues he's spouting, all this while his hairdo (a weird hybrid between a buzz cut and a toupe) vies for our attention.
It's not all Deol though.
The story lacks the vigour that makes a rom-com truly stand out.
No compelling reasons are established for the events to unfold the way they do in the film.
Kangana does manage to salvage a scene or two with her now-famous screen presence. But that's pretty much it.
Cameos by Reema Lagoo and Maya Alagh as Tikku's nosy coworkers who double up as overbearing mother figures in her life only weaken I Love NY's case.
Give this one a miss if you love New Year's Eve. Or New York. Or both.
Rediff Rating: