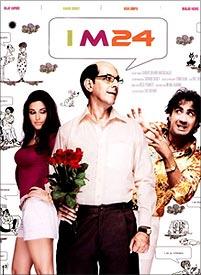 I M 24 is for Rajat Kapoor and Ranvir Shourie fans, writes Preeti Arora
Brace yourselves, the
Bheja Fry
gang returns. It's the same clique returning with two country bumpkins instead of one. Only now they've done us a huge favour. Vinay Pathak, whose performances in
Bheja Fry 2
,
Chalo Dilli
,
Pappu Can't Dance Saala
left the audience exiting the auditorium (just in case they were naïve enough to enter) at breakneck speed has been dropped from the cast. The rest of the scenario remains pretty much the same.
You've been warned at the onset, there's a déjà vu feeling which creeps in the first scene itself -- struggling writer hoping to make it big in Bollywood, perched at a computer whining about life in general. Director Saurabh Shukla uses every opportunity to impress us with his 'fundas' about art versus real life or the malaise of plagiarism which abounds in Bollywood. Never mind the fact that so many films from this same motley group have been blatant rip-offs;
Bheja Fry
(
Dinner Games
) and
Chalo Dilli
(
Planes Trains and Automobiles
).
Corny dialogues intent on impressing us with the director's views on cinema seem more appropriate in a diploma film, not a commercial movie.
I M 24
is the story of the naïve-do-gooder Shubendhu Roy (Rajat Kapoor) who seems incapable of telling a lie and is averse to any kind of
chamchagiri
.  Strangely his roommate is the garrulous Gagandeep Singh (Ranvir Shourie) who believes that a gift of the gab and fine tuning your sycophantic nature is all one needs to make it big in tinsel town. The duo often have conflicts with their opposing ideologies.
They claim they're slumming it out but their spacious room with antique
chor bazaar
furniture
and designer lighting seems to belong more to a successful entrepreneur than two struggling artists. Only concession being faded cotton bed sheets. Realism, Saurabh Shukla style.
But then Cupid strikes (predictably) and both our heroes fall in love. And since women aren't easily attracted to strugglers, reality is distorted, cars and suits are hired and a fake aura of affluence is created. Will these two heroes manage to keep up the façade? Or will their conscience take over and give them the courage to confess?
Considering the idea of Mr Right who alternately sinks and floats in the big bad world of Bollywood isn't exactly new, the film could have done with an original treatment. But director Saurabh Shukla in his attempt to spoof popular cinema retains the most obvious caricatures obese, evil, villainous producers, aging vamps and simpering sly secretaries.
Shukla doesn't just condemn the industry for its shallowness, there's also a lesson for young women that a man who's forty-plus (pun intended) and balding needn't be discarded because he may have a heart of pure gold.
The punch lines, yes there are one or two really funny one-liners but they are too few to make an impact. It is the spirited performance by two seasoned and mature actors (Rajat Kapoor and Ranvir Shourie) which stops the film from fading into oblivion.
This film is strictly for Rajat Kapoor or Ranvir Shourie fans. Or you might just love it if you got dumped unceremoniously for losing your hair at twenty. The rest would be better off giving it a miss.
Rediff Rating: