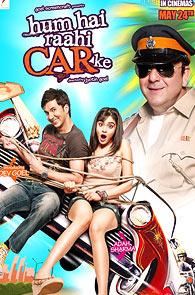 Hum Hain Rahi Car Ke is a forgettable film, writes Laxmi Negi.

It would be wrong to call this movie a romantic comedy.

There is absolutely no chemistry between the lead pair of the film -- Dev Goel and Adah Sharma -- and gags that are supposed to make you laugh fall flat.

1920 actress Sharma, has no screen presence at all while debutante Goel comes a cropper despite having the best lines and scenes in the film.


One wonders how the young debutant managed to go through the entire film with just one expression on his face. The constant smirk doesn't help matters either.

The non-linear narrative, which has worked wonders in well-made films, adds to the viewers' dismay while the story trudges along at a boring pace.

Juhi Chawla, in a brief role, is like a much-needed respite as a pan-chewing Lucknowi doctor.


Chunkey Pandey's over-the-top acting tests the viewers' patience.

The film's soundtrack is comprised of a bunch of forgettable songs, save for the title track which some may find hummable.

The story moves forward without any clear direction and comes to an abrupt end because, you know, it HAS to end somewhere.

Don't be surprised if you can't recall the film's name even as you come out of the theatre.

There is nothing worth remembering here.

Rediff Rating: