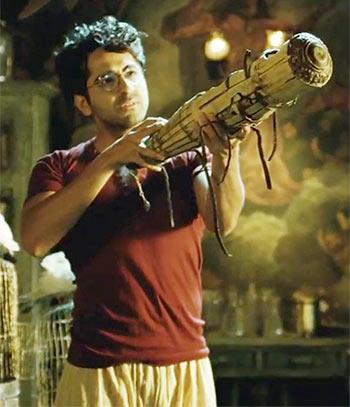 Thanks to the film's half-baked treatment, it is reduced to appearing like a flight of fancy of an impulsive wastrel than an ambitious dream of a strong-willed genius, writes Nishi Tiwari.
Towards the end of Vibhu Puri's directorial debut Hawaizaada, the protagonist Shivkar Bapuji Talpade (Ayushmann Khurrana) is bidding his sister-in-law farewell before he finally takes flight.
"Tum ja rahe ho (You're leaving)?" the teary-eyed bhabhi asks him.
He nods yes.
"Fir wapas nahi aaoge (You won't come back)?" she persists.
Before Talpade can respond, a chirpy female voice in the theatre erupts, "PROMISE?!"
Everyone within hearing range bursts into peals of laughter -- the film has gone on three long hours in which very little of substance or consequence has happened.
Inspired from real life events of Shivkar Bapuji Talpade, the first Indian scientist credited to have constructed the first unmanned plane, has a historically significant event at its core.

But thanks to the film's half-baked treatment, it is reduced to appearing like a flight of fancy of an impulsive wastrel than an ambitious dream of a strong-willed genius.
A young Shivkar Talpade (called Shivi) is thrown out of the house by his zamindar father after he challenges his ideas and doesn't live up to his expectations. He is taken in by scientist Shastri (a glassy-eyed Mithun Chakraborty) on the condition that Shivi help him in his secret project -- constructing a hawai jahaaz.
Shastri, who is widely known in the city (Mumbai) as a mad scientist, lives up to his reputation more by way of his appearance -- dirty salt and pepper hair peering out of his round hat, haggard clothes, and a thick-rimmed pair of spectacles held together by a string near the bridge of his nose -- than by his temperament.
Pallavi Sharda, as the dancer Sitara Devi (what an original name for a show girl in 19thcentury India!), serves mostly as a prop to anchor the totally irrelevant romantic subplot in the film. But that's not to say she cannot act.
But, like her costar Ayushmann, who shows flashes of sincerity with his performance, she is rendered inadequate because she's given too little to work with.
While the majority of the focus remains on this trio throughout the movie, Naman Jain, in the role of Talpade's nephew Narayan, is an absolute show-stealer.
To watch a kid of his age, deliver a performance with such rare flair, is an absolute delight. I would go so far as to say that he might just be the only redeeming factor of this tragically confused and haphazard film.
The film's plot meanders at a head-spinning rate and on more than one occasions, it strikes as too self-conscious. Sitara Devi turns up for her first date with Talpade in a black gown while Ayushmann is mostly dressed like a flamenco dancer early on in the film.
While the story essentially is supposed to be steadfast in its devotion to the central theme – of a dream and the road to its fulfilment -- the plot sleepwalks into the romantic track more often than it should.
Talking about inconsistencies, Hawaizaada's sets are so far removed from its story. It takes a minute or two to adjust to each frame (there are gags in the film strongly reminiscent of Barfi! and set designs that look straight out of Sanjay Leela Bhansali's Saawariya).
Too much attention to detail has been paid, if there ever is such a thing, to everything but the script. The china used in the film is a little too ornate for its period, the mad scientist's abode is so fantastical, it works as a piece of great magical realism but takes away a great deal of the story's credibility.
While the background score of the film is as uninspired as its screenplay, the many songs are generic at best.
Hawaizaada, in the end, is a flight of fancy that fails to take off.
Rediff Rating: