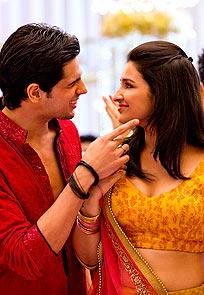 Hasee Toh Phasee takes a familiar premise -- two people on the brink of tying the knot and introduces a third party to cause expected stir. Only it doesn't happen like it used to, writes Sukanya Verma.

Socho mein idea hoti aur tum technology, humari patang kya mast udti na?" coos Parineeti Chopra in one of Hasee Toh Phasee's *many* winning scenes. She could well be speculating about the outcome of a collaboration between Karan Johar's spunk and Anurag Kashyap's ingenuity.

These two prolific filmmakers with diametrically dissimilar body of work, along with co-producers, Vikramaditya Motwane and Vikas Bahl jointly spearhead what I found to be a delightful romance comedy.

Directed by Vinil Mathew and based on Harshavardhan Kulkarni's story/screenplay, Hasee Toh Phasee takes a familiar premise -- two people on the brink of tying the knot and introduces a third party to cause expected stir. Only it doesn't happen like it used to. Instead how everything transpires is Hasee Toh Phasee in a nutshell.

Even though there's a brief backstory to brief us about the temperament of sensitive Nikhil (Siddharth Malhotra) and peculiar Meeta (Parineeti Chopra), Hasee Toh Phasee doesn't move cut to cut, it progresses gradually without letting us feel how time flies by. Like it usually happens when you're in fascinating company.

Hasee Toh Phasee is that rare film that allows you to know the two people you're investing in. And the closer you get, the more they win you over.

Meeta is... well, a lot of things. She's a problem child for her traditional Gujarati household that doesn't know how to handle her restless brilliance.
She's her daddy's girl (played with rare grace by Manoj Joshi) who smilingly overlooks her many mischiefs because he appreciates her extraordinary intellect.
She's a scientist whose invention mirrors her own unstoppable, bouncing impulses.
She's also an oddball, an eloper and a drifter who's developed seriously unhealthy habits. The last bit is treated a tad too simplistically and mysteriously so as to not disrupt the rosy picture.
Playing the Yin to her Yang is Nikhil. He's not as many things as Meeta. He's just a simple, spirited, conscientious guy unable to fulfill people's expectations of him but never, ever stops trying.
Whenever they're together in a frame, the silver screen becomes cosy. Nikhil and Meeta's conversations -- "do half main ek full se zyada milta hai"--wear a seamless and soothing air, a quality sorely missing from their individual lives.
None of their chemistry would dazzle as brightly if Kulkarni's nuanced script wasn't as well written as it is. Writing is one of the greatest joys about Hasee Toh Phasee.
It documents the ambiance around its central protagonists with such delicacy and deftness; the getting to know stage feels more personal than ever.
Also, these bright, brimming, quirky faces, mostly family members or colleagues of Nikhil and Meeta, contribute a memorable punch to every single scene while remaining at the periphery.
Mathew's ad filmmaking aesthetics and its well-timed hilarity (the mobile-obsessed uncle inquiring "Aur baaki? Aur baaki? Android?"/"Dengue ke machar raat ko nahi kaat te sir," points out a correcting voice on the phone/The Legend of ACP Pradyuman/The antics of an Anu Malik enthusiast) ensures its ensemble cast of characters; their mini sub-plots and moments don't drown in the wedding mob even as the viewer cracks up at regular intervals.
Shaadi as a backdrop is a done to death plot device but Hasee Toh Phasee resists using it in the conventional sense for manufactured flirtations. Instead it chooses to concentrate on overbearing relatives and domestic troubles like water shortage/insufficient toilets in a house crammed with guests.
And that's why the Punjabi Wedding Song (scored by Vishal-Shekhar) in the later second half strikes as a terrible, terrible miscalculation. After ignoring its soundtrack like plague for three fourth of its running time, the final quarter goes wild squeezing in the remaining album with disappointing desperation.
While on the negatives, one wonders about the raw deal Karishma (Adah Sharma) gets. Given she's the girl Nikhil is about to marry and Meeta's very own sister, why is she kept out from all the action? One never really hears her point of view. To Adah's credit, she doesn't emerge like the nagging stuck-up Hasee Toh Phasee would like her to be.
Her suitor in the movie -- Siddharth Malhotra may have let her down but he's immensely likeable as the nervous, sweet, sweaty and disarming Nikhil. His endearing smile and awkwardness works perfectly for a role that relies on him to stay warm, generous and compliment his unusual heroine.
Speaking of her, not even the finest actress in this country today may be able carry off this role without appearing affected or jarring.
Meeta is a hyper, complex creature but all her turbulence happens in her mind. She may flicker her eyelashes faster than those twinkling LED Diwali lights, make a creepy face or two, attach a Magsafe onto a bus stop's power source to generate charge in a car battery and spew scientific metaphors in the vein of Sheldon Cooper but she's comfortably nonchalant.
And Parineeti sinks her teeth into this misunderstood kook without a trace of self-consciousness or exaggeration.
It's love at first sight the moment she appears on screen, caught between a complex wire fence, in short hair and glasses, as though she was returning from some dress-up-like-Harry Potter cult.
If that's not magical enough, what Hasee Toh Phasee celebrates certainly is. That the only high you need is life, love and smiles.
Rediff Rating: