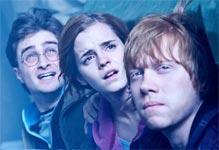 Sumit Bhattacharya feels Harry Potter and the Deathly Hallows Part 2 is a must-watch film, but yet, a prisoner of past mistakes. Post YOUR reviews here!
Do you know that feeling inside your stomach you get after watching a great film, reading a great book, or listening to a great piece of music? That knot that seems to radiate pangs of aching emptiness and happiness?
That
 is
not quite
the feeling you get after watching
Harry Potter And The Deathly Hallows Part 2,
the finale of the eight Harry Potter films made from the seven books by J K Rowling. Instead, what you get is an overwhelming feeling of:
If Only.
Don't get me wrong,
Harry Potter And The Deathly Hallows Part 2
is a juggernaut of a movie, epic at times, poetic at others. Actually, it is so good that you wish all the films had been this good.
Especially after watching the trio of Daniel Radcliffe, Emma Watson (too pretty to be Hermione, but that's not a complaint) and Rupert Grint mature into such fine actors. They have become Harry Potter, Hermione Granger and Ron Weasley; that is their triumph. These are roles of a lifetime, and the kids deserve a round of applause.
As do the entire ensemble cast. Maggie Smith playing the strict but loving Professor Minerva McGonagall, Alan Rickman as the misunderstood Severus Snape, Helena Bonham Carter (an absolute hoot playing Hermione play Bellatrix on Polyjuice Potion) as the manic Bellatrix Lestrange, and Ralph Fiennes, who plays Lord Voldemort with rare aplomb. Even Evanna Lynch as Luna Lovegood and Matthew Lewis as Neville Longbottom really flower in this one.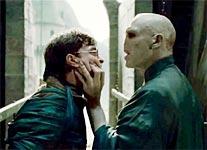 The two-hour-ten-minute movie moves like a steam train on full throttle, and the Battle of Hogwarts is almost as grand as you would have imagined it to be. The film alternates between action and emotion with the right kind of shutter-speed and tries to stay faithful to the book to a larger extent than previously seen. The special effects are top class, and more realistic. Check out the gnarled old dragon at Gringotts, for example.
But there are still Potter booboos. I mean, surely, you can't have Harry duelling Lord Voldemort even before Nagini is dead? And, surely, more people joined the Battle of Hogwarts?
And the final film remains a victim of past mistakes, though it tries to cover it all in one grand sweep, and, to director David Yates' credit, almost succeeds.
Truth be told, Yates, who took over since Order Of The Phoenix, has stood head and shoulders above all the Potter directors.
The first two films by Chris Columbus were disasters. In Philosopher's Stone, you never felt Harry's awe at discovering and being part of the wizard world. In Chamber Of Secrets, you never felt the fear.
Things got better from Prisoner Of Azkaban, with the Mexican director Alfonso Cuarón introducing a darker approach. But by then, too many of the key side-dishes of the Harry Potter buffet had been chopped off the menu (a trend continued with Goblet Of Fire, directed by Mike Newell). So, when you finally see Fred Weasley dead, I doubt you will fell as much for one of Rowling's finest characters. You just have't met the irrepressible Fred and George in the films.
Similarly, though the final film opens with Harry at Dobby's grave, I doubt one can feel as much for Dobby the free elf, given that the whole subtext of wizards versus other magical creatures has been given short shrift in the films. As has Harry's own love affair with Ginny Weasley, coupled with the superhero's guilt.
And yet, the final film shines. Snape's flashback is beautifully done. And Deathly Hallows Part 2 gets its imagery right with subliminal Second World War suggestions. The books (like all fantasy fiction) have a lot of such references missing in the films, including the one about the evil wizard Gellert Grindelwald appropriating an ancient symbol (think swastika and Hitler). And the layers and layers of subtext that make the books such a delight are sorely missing in the mood of the films.
But that's just a fan's rantings. Deathly Hallows Part 2 is undoubtedly the best of the Harry Potter movies.
Which is why the If Only feeling. Maybe someday ten years later, Warner and Rowling will allow a remake, and we will be able to dive anew into the magical mystery world of Harry Potter -- without the baggage of the past. And a fan will be able to give five stars to a Potter film.
For now, go and watch this lavish movie for its performances, for its special effects, and for its storytelling.
Rediff Ratng: