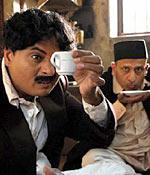 Most biopics tend to be intense, verbose kind of movies. However, Marathi film Harishchandrachi Factory is anything but that. The film is based on the first film ever made by Dada Saheb Phalke, considered as the pioneer of Indian cinema.
Harishchandrachi Factory has a lot of punch lines and humour. Even tragic events are treated with light humour but at the same time, the makers are not making fun of the topic.
First-time director Paresh Mokashi's idea of making a film on such a subject is quite novel, and well-executed.
Harishchandrachi Factory opens in 1911, Bombay, where Dhundiraj Phalke (Nandu Madhav) gives up his job at the printing press, and starts performing magic for children. His wife Saraswati (Vibhawari Deshpande) and two sons are very supportive of him even though he is jobless.
At one such magic show, Phalke sees a motion picture on the life of Jesus Christ and is awestruck at how it is captured on camera. He reads up on how it is done, and tries to under the medium of cinema.
His friends and neighbours think he has lost his mind in his obsession but Phalke continues to chase his dream. Even a failing eyesight does not deter him. He takes a trip to London to learn how to make a film.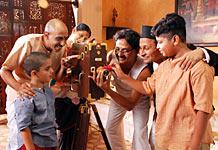 On his return, Phalke collects funds to make his first film, and chooses the story of Raja Harishchandra. He ropes in actors, and even persuades his family to be a part of it.
Harishchandrachi Factory traces Phalke's journey to making his first film, and the hardships he faced while doing it.
Some of the scenes are brilliantly done -- like the scenes where Phalke tests his camera by planting a sapling and waiting for it to grow. There is another scene where his son gets injured on the sets but Phalke does not stop shooting. Later, he feels very guilty for not taking care of his son.
Nandu Madhav and Vibhawari Deshapande have done a great job as Mr and Mrs Phalke.
Art director Nitin Chandrakant Desai has done a great job in creating the 1911 era. It's amazing to see how Mumbai looked back then. Even old London has been captured well.
Costumes by Mrudul Patwardhan, Mahesh Sherla and Geeta Bole are detailed, and well done. There is no song and dance in the film but Anand Modak's music is beautiful.
Director Paresh Mokashi deserves a pat on his back for making such a low budget film with such great actors, and such interesting direction.
Rediff Rating: